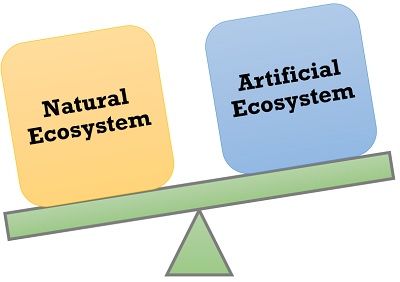 Ecosystems, whether natural or artificial, both rely on the cosmic principles of nature. However, there are other differences between these two systems, including creation, purpose, diversity, susceptibility, sustainability, etc.
The natural ecosystem is the outcome of the constant interplay between living and non-living organisms, as well as the environment in which they live. Humans, on the other hand, create artificial ecosystems for their own advantage.
The living and non-living components of a natural ecosystem work together to carry out essential biological, chemical, and physical processes. As a result, they are genetically varied and adaptable to changing environmental conditions. On the other hand, the artificial ecosystem is less diverse and has low sustainability as it lacks these operations.
Natural ecosystems evolve throughout time through a series of evolutionary trials and errors without any interference from humans. On the other hand, the maintenance of artificial ecosystems requires human intervention. Therefore, they lack the process of evolutionary development.
In the following section, we'll explore the differences between natural and artificial ecosystems, as well as their brief descriptions, biological significance, and examples.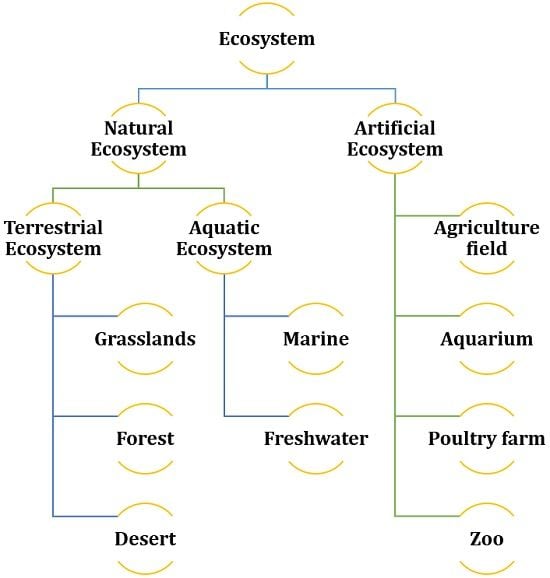 Content: Natural Vs Artificial Ecosystem
Comparison Chart
Basis of Comparison
Natural Ecosystem
Artificial Ecosystem
Meaning
Naturally occurring system developed due to the constant interaction between the biotic and abiotic factors of the environment.
Manmade, artificial system comprising of plants, animals, people and technology for their own benefit.
Example
Forests, Mountains, Oceans, Deserts, Grasslands etc.
Agricultural fields, Poultry Farms, Aquarium, Living walls etc.
Purpose
To maintain the natural balance and cycle of life.
To study or examine the
natural processes, to enjoy and exhibit the artificially created environment.

Function
To protect, conserve and cherish the biodiversity, natural resources, and to pass biological legacy.
To improve land yield, animal husbandry practices, enhancing natural productivity by using artificial tools and techniques
Diversity
Highly diversified biodiversity and vegetation.
Limited diversification
Genetic variance
Wide range of genetic variety is present which continuously keeps on interacting in a complex manner.
Lower level of genetic variation as less favoured species tapper off slowly.
Sustainability
Self-sustaining
Requires human assistance in the form of fertilizers, food, supplementary nutrients etc.
Susceptibility
Capable of accepting the changes and evolving with respect to them.
Susceptible, fragile and vulnerable towards the changes or deviation from ideal conditions.
Food Chain
Food chains are intricate and interconnected in the form of a food web.
Simple, disordered and discontinuous food chain.
Energy Source
The ultimate energy source is sunlight, which nourishes producers, who then supply energy to the successive trophic levels.
Sunlight provides light to producers, but it is not always passed to the next trophic level.
Nutrient Cycle
Entangled but complete nutrient cycle.
Simple but incomplete nutrient cycle.
Ecological Succession
Adequate level of ecological succession due evolution and required biological, geological and ecological processes.
No possibility of ecological succession.
What is Natural Ecosystem?
The answer to this question may vary from region to region, as these ecosystems differ in appearance depending on climate, soil type, topography, biodiversity, and availability of natural resources.
Definition of Natural Ecosystem
"The ecological systems that are exclusively natural, generated by the continual interaction between living, non-living, and the surrounding environment and are not influenced by the human, such ecosystems are known as Natural Ecosystems".
Salient features of Natural Ecosystem
Natural ecosystems are the product of spontaneous evolutionary selection rather than having specific goals. As a result, they have a wide variety of genetic variations.
These are self-sufficient and self-sustainable ecosystems. They do not require human assistance for their subsistence.
They perform all biological, physical, and chemical functions that are necessary for a healthy ecosystem.
The natural ecosystem's living and non-living parts work together as a single entity to maintain the cycle of life.
The food chain is mainly in the form of a food web that is intricate and interlinked. One organism relies on the other for food, and thus, the energy cycle is a complete cycle.
These systems ensure the conservation of natural resources and the transmission of biological heritage to future generations.
Types of Natural Ecosystems
The natural ecosystems are of two basic types:
Terrestrial Ecosystem: The ecological system of the land. Compared to aquatic habitats, terrestrial ecosystems are more complex and diverse. This is due to the constant variation in the physical, climatic and ecological alterations.
The terrestrial community continues to engage with these changes, resulting in the formation of a variety of terrestrial ecosystems.

Examples of the terrestrial ecosystem:
Tundra: These are essentially treeless, damp grasslands found at higher altitudes, primarily around the north pole (60o N). They are distinguished by minimal rainfall, extremely cold temperatures, and short growing seasons.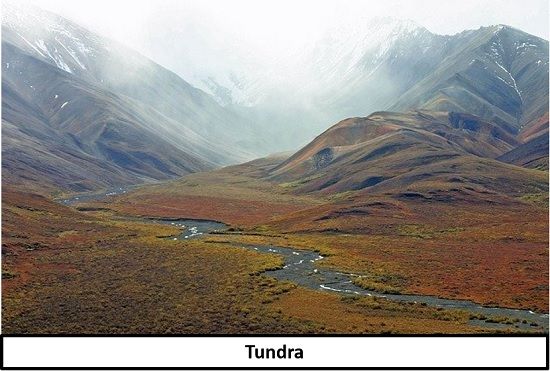 Forests: They are made up of a diverse range of dense trees, numerous plant species, and wild animals. Depending on the geography and type of vegetation, they are classified into various types.

Deciduous Forest: In these forests, there is uniformly excessive rainfall, i.e. about (75-150 cm pa). Their autumn season is very significant because it is when all of the trees and bushes shed their leaves.
Tropical rain Forests: Tropical rain forests are found near the equatorial line in low-lying places. They get roughly 200 cm of rain every year on average, if not more.
Coniferous Forests (Taiga): The temperature of these forests ranges from 6oC in winters while 20oC in summers. The average rainfall is upto 10-35 cm per year.
Grassland: These are areas where the average annual rainfall is between 25 and 75 cm per year. This amount of rainfall is insufficient for forest development but not deficient enough to turn the area into a desert. Here you'll find 15-20 cm tall grasses, as well as some small trees and plants.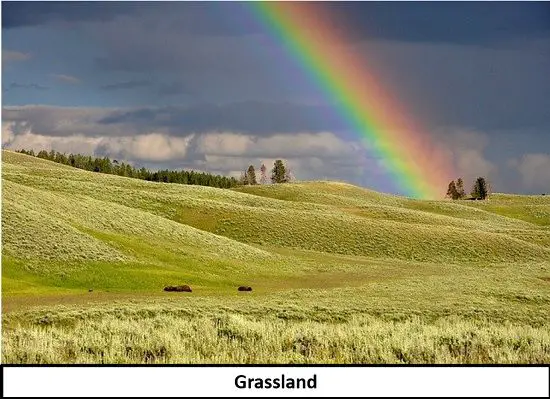 Desert: The regions which have a scarcity of rainfall are called deserts. These are distributed throughout the part of the world. Because of the lack of rain, they are known as the 'Rainshadow.'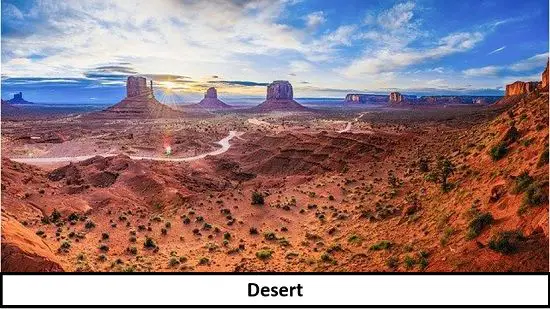 Aquatic Ecosystem: 70% of the Earth's surface is water. Thus, you can affirm the importance of these ecosystems. The aquatic ecosystem can be defined as a water-based environment where the aquatic flora and fauna interplay with the physical and chemical features of the water body.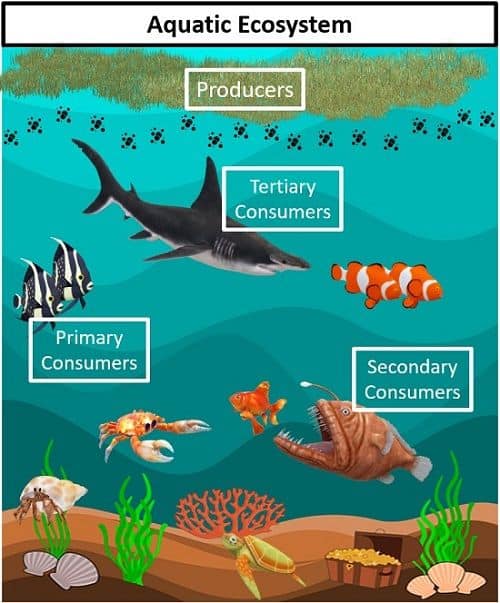 The aquatic ecosystems are classed into two categories:
Marine Ecosystem: Seas and oceans can be considered the most prominent and extensive natural habitat of the globe. Indeed, they function as a habitat for the most unique, wonderful, small, huge, powerful and magnificent life forms in the world. The marine water constitutes a dilute solution of several mineral salts present on the earth's crust. So only organisms with enough potential to support this level of salinity can survive here.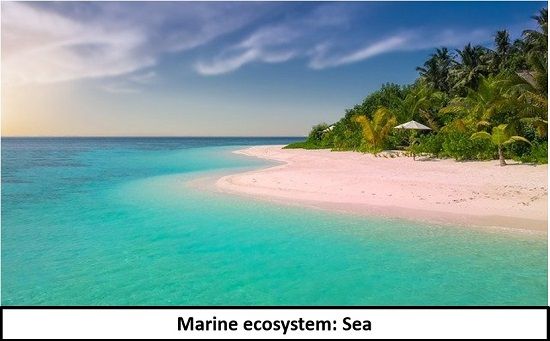 Freshwater Ecosystem: The saline water from seas and oceans evaporates to form clouds. These clouds precipitate in the form of rain, hail or snow to create freshwater reservoirs like rivers, ponds, lakes, etc.
Although they contribute the smallest percentage of the total ecosystem, they are equally influential in environmental activities.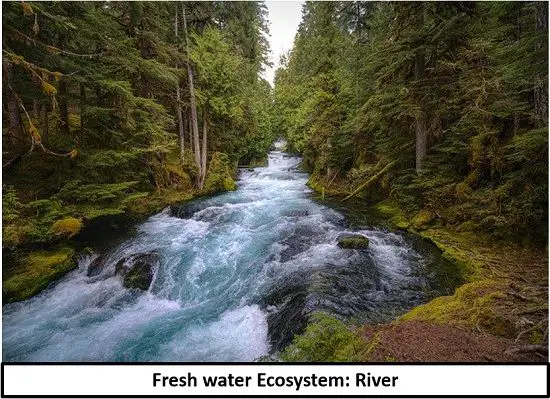 What is Artificial Ecosystem?
Artificial ecosystems are comparatively simpler and uncomplicated arrangements. These are designed, created and maintained by humans to achieve certain goals. These goals can involve decorating, improving yields, growing crops, raising livestock for profit, and much more.
Definition of Artificial Ecosystem
"Ecosystems artificially created by humans to exploit the ability of nature's biotic and abiotic components for profit, such ecosystems are termed as Artificial ecosystems".
Salient Features of Artificial Ecosystem
Humans intentionally create artificial ecosystems by collaborating the natural components with scientific tools and techniques.
This mainly leads to better crop yields, increased poultry and dairy production, better products with cloning techniques, and much more.
Artificial ecosystems are manmade and therefore have no chance for evolution and ecological succession.
They have limited species variety and lesser genetic variations. The organisms which are less favoured perish automatically.
Humans assist these systems for their easy functioning with scientific equipment, supplementary feed, fertilizers, additional nutrients, etc.
These are designed in such a way that the linkage between all the components is not obligatory. In this way, these systems are likely to have an incomplete energy cycle.
Examples of Artificial Ecosystem
There are several artificial ecosystems around you. We basically do not recognize them separately as they have become an integral part of natural human life.
Aquarium
Aquarium This is a small-scale manmade replica of the aquatic ecosystem for the purpose of preserving aquatic flora and fauna. The motive for creating them may be for decorative purposes, studying different components of aquatic life, or preserving a particular form of diversity.  Sometimes, they are also used to keep amphibians like reptiles, turtles, etc.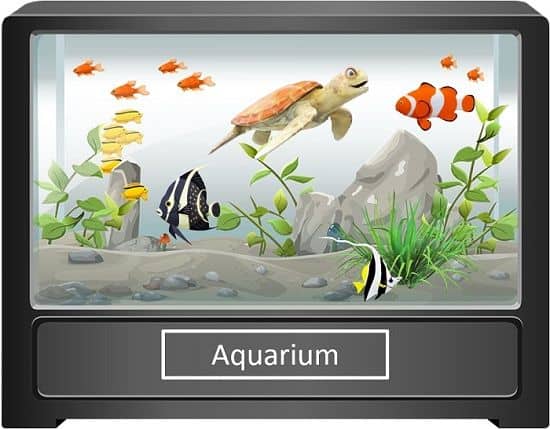 Zoo
The zoos are constructed to manifest the wildlife. They have a wide variety of living things, from very small to giant, terrestrial to aquatic, kept and preserved in a particular place. It is usually tried to create a natural and normal environment for animals so that they do not perish.
Agricultural fields
They are a human-assisted piece of land where the desired variety of crops are cultivated with the help of agricultural tools and equipment.
They have to be created and maintained properly in order to keep them in good condition. Humans supply these fields with fertilizers, manure, chemical pesticides, herbicides, weedicides, etc., for the sake of a good harvest.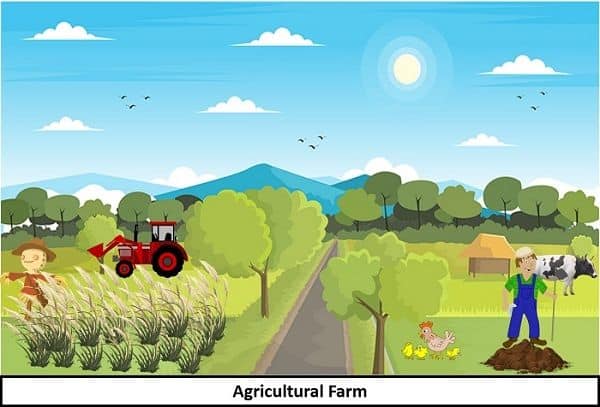 Key Differences Between Natural and Artificial Ecosystem
Natural ecosystems are naturally occurring arrangements that are established due to the continuous interaction between the biotic and abiotic members of the environment. Contrarily, artificial ecosystems are designed, created and maintained by humans to attain several goals.
Natural ecosystems are not subjected to any human intervention. On the other hand, artificial ecosystems require human vigilance to sustain themselves.
Artificial ecosystems are facilitated by additional nutrients, supplementary food, chemical fertilizers, and scientific support to persist and sustain living life. The natural ecosystem on the opposite side does not need any of these as it is self-sufficient.
Scarcer diversification is found in the artificial ecosystem, whereas the natural ecosystem possesses an extreme range of genetic variation and species diversity.
The prime purpose of natural ecosystems is to maintain the natural balance of the environment, protect and preserve biodiversity, sustain natural resources, and pass the biological legacy to the upcoming generations.
The motive behind the artificial ecosystem varies from that of the natural ecosystem. It is associated with improved land yield, decorative purposes, exploiting the animals to gain profit or protecting certain species.
Conclusion
The natural ecosystem serves as an elementary unit of the environment as it is responsible to carry out significant biological, chemical and physical operations. The artificial ecosystem lacks this efficiency but influences human life in many ways. Although natural and artificial ecosystems differ in many aspects, both of them are equally crucial aspects of a healthy and sustainable environment. So, it becomes a responsibility to cherish and protect these ecosystems.