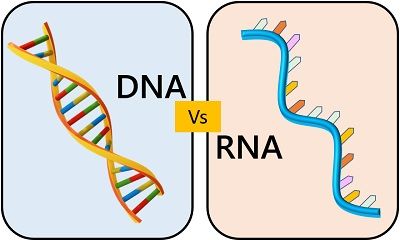 DNA and RNA are the two types of nucleic acids that act as the hereditary material to transfer genetic information from one generation to the next one. They store the inherited data in them, thus can be considered as the repositories for the genetic information.
DNA (double-stranded) as a genetic transporter is present in almost all the higher eukaryotic organisms. Whereas RNA (single-stranded) as genetic material is found only in lower organisms like prokaryotes. Eukaryotes too have a large proportion of RNA but here it serves different purposes.
The DNA molecule comprises a 5-carbon deoxyribose sugar as the backbone. Contrarily, ribose sugar makes the backbone of RNA.
In DNA, guanine pairs with cytosine and adenine pairs with thymine. But in RNA, the thymine molecule is replaced by uracil.
In the following content, we will be studying more about the key differences between DNA and RNA along with a comparison chart, diagrams and a thorough description.
Content:  Deoxyribonucleic acid (DNA) Vs Ribonucleic acid (RNA)
Comparison Chart
| Basis For Comparison | Deoxyribonucleic acid (DNA) | Ribonucleic acid (RNA) |
| --- | --- | --- |
| Meaning | DNA stands for Deoxyribonucleic acid consisting of double-stranded molecule consisting a long chain of nucleotide. | RNA stands for Ribonucleic acid is single-stranded helix consisting of shorter chains of nucleotide. |
| Nitrogenous base | Adenine (A), Thymine (T), Cytosine (C), Guanine (G). | Adenine (A), Uracil (U), Cytosine (C), Guanine (G). |
| Base pairing | AT (adenine-thymine) CG (guanine-cytosine). | AU (adenine-uracil) CG (guanine-cytosine). |
| Helix form | B form of double-stranded structure presently, consisting long chains of nucleotides. | A form and is single stranded, consisting of shorter chains of nucleotides. |
| Radiations to Ultra-violet rays | DNA can be damaged. | RNA is resistant to UV rays. |
| Reactivity | Less reactive due to the presence of C-H bond. | More reactive due to the presence of C-OH (hydroxyl) bond. |
| Replication | DNA is self replicating. | RNA is synthesised from DNA. |
| Stability in alkaline conditions | DNA is stable. | RNA are unstable. |
| Types | No types. | Three types - mRNA, tRNA, rRNA. |
| Function | Plays role in storing of genetic information, for further development and organisations of other cells. | It helps coding, decoding, gene expression, and protein synthesis. |
What is DNA?
The DNA stands for deoxyribonucleic acid. It acts as the genetic material mostly in the higher organisms and seldom in the prokaryote. Because of the double-strand structure, it is highly stable.  enclosed in the nucleus, where it changes its conformation from chromatic thread to the condensed chromosomes as per the need of the cell.
Apart from the nucleus, some other cell organelles like mitochondria and plastids also contain DNA. However, this is not passed from generation to generation, and thus, it is non-hereditary DNA.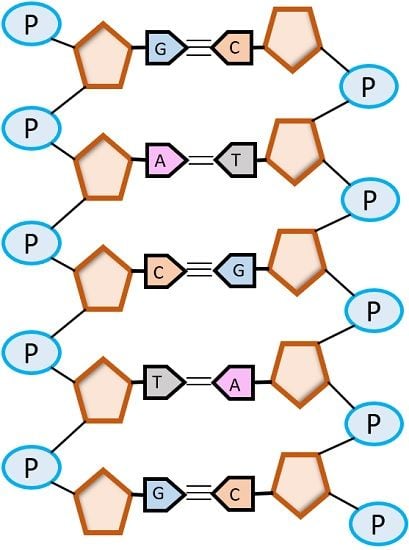 Monomer of DNA
The sugar molecule, when combined with nucleobases, they form nucleosides. Four types of nucleosides are- deoxyadenosine, deoxyguanosine, deoxycytidine and deoxythymidine.
The phosphate group gets attached to the nucleosides to form a nucleotide. These nucleotides act as the monomeric unit for the DNA molecule.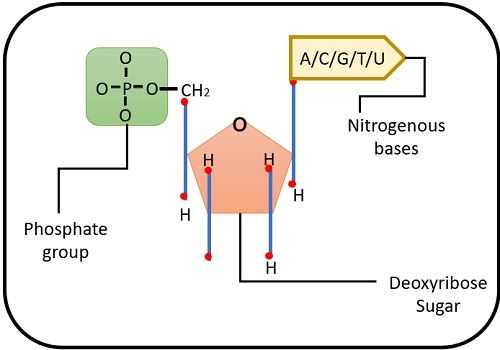 Composition of DNA
DNA molecule has three prominent components- Pentose sugar, a phosphate group and nitrogenous bases.
Pentose Sugar: The DNA has a 5-carbon pentose sugar named deoxyribose sugar. These sugar molecules serve as the backbone of the DNA that supports its structure and orientation.
Phosphate Group: Phosphate is made by combining one molecule of phosphate and four molecules of oxygen. When this combo attaches to the carbon, it is known as the phosphate group.
In the DNA strand, single phosphate is attached to the 5th carbon of one sugar molecule as well as to the 3rd carbon of the subsequent sugar molecule.
Nitrogenous Bases: They are also referred to as nucleobases as they make up an essential element of the nucleic acids. They are of two major classes- Purines and pyrimidines.
The purines and pyrimidines both are planar non-polar molecules that resemble pyridine. Pyrimidines are the single organic heterocyclic ring structure, whereas the purines are two fused imidazole double-ringed structures.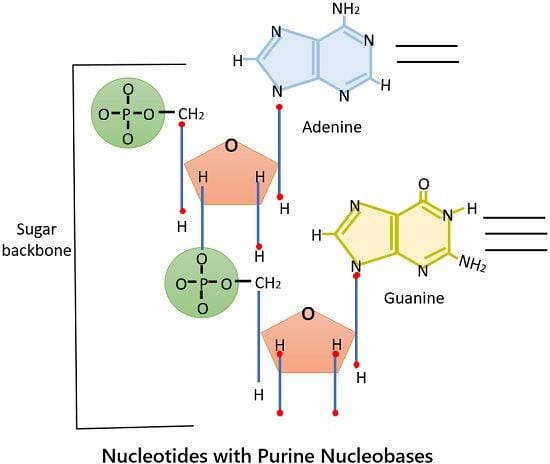 Adenine and guanine are purines, while cytosine, thymine and uracil are pyrimidines. One purine binds to one pyrimidine with a hydrogen bond in a double strand.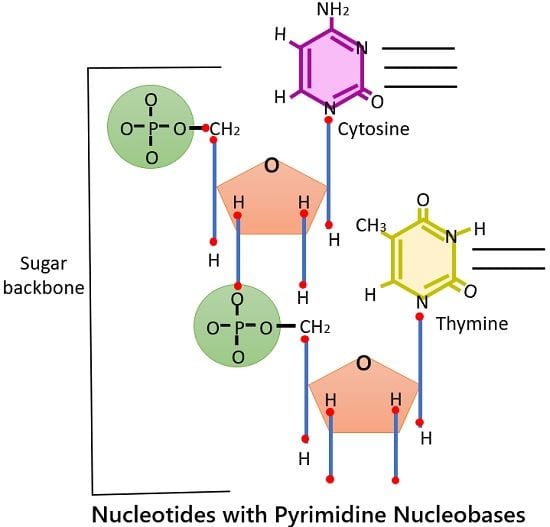 Structural Characteristic of DNA
DNA is a double-stranded helical structure. The two strands of the molecule run in an antiparallel fashion to each other i.e. one from 3' to 5' and the other from 5' to 3'.
The strands comprise the polydeoxynucleotide chains that are right handily twisted around each other with a common axis.
Each turn is referred to as a pitch that consists of 10 nucleotide base pairs with 34 Ao which means that each subsequent base pair is placed at the distance of 3.4 Ao 
The width of the DNA helix is about 20 Ao
Both the strands have the hydrophilic backbone on the outer side, while the hydrophobic nucleobases are located on the inner side of the strand.
The antiparallel strands are not identical but are complementary to one another because of base pairing.
The purines adenine and guanine pair with pyrimidines thymine and cytosine with double and triple hydrogen bonds, respectively.
The bond between guanine and cytosine (G-C) is 50 times stronger due to triple bonding than that of the adenine and thymine (A-T) bond.
The double-stranded DNA fragment obeys Chargaff's rule. According to this the amount of adenine-thymine (A-T) content is exactly equal to the guanine-cytosine (G-C) content.
9' N of the nitrogenous base binds with 1'C of the sugar molecule with glycosidic bond.
Two consequent monomeric nucleoside units are attached together by 3'-5' phosphodiester bond.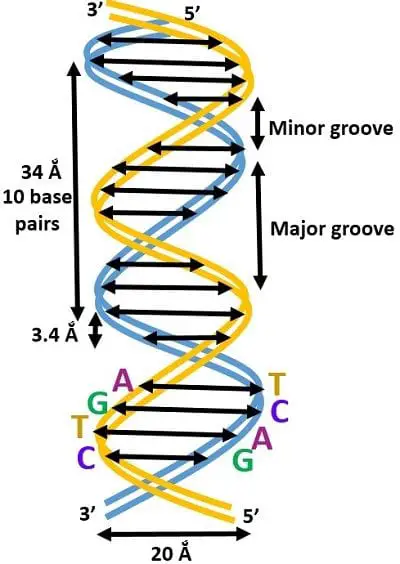 Types of DNA
The structure and the orientation of the DNA vary on the basis of a number of strands, the direction of the helix, the twist angle of a helix, the distance between subsequent base pairs etc. Thus, the DNA can be of single, double, triple or even quadruple helix but will perform similar functions.
Among these, double-stranded DNA is most prominent in higher organisms. Its structure was well-explained by the two famous scientists, Watson and Crick. They gave the ladder orientation of DNA with the characteristics mentioned above.
The double-stranded DNA is present in three basic forms- A, B, C, D, E and Z. Among these, A, B and Z types are dominantly found.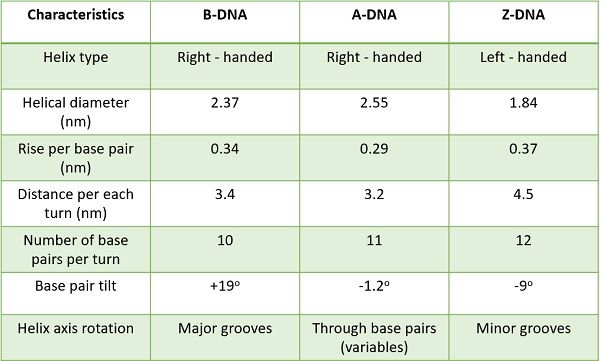 Organization of DNA
As per the complexity of the organism, the DNA can be of either linear or circular form. The prokaryotes containing DNA as genetic material mainly possess the circular form. For instance, bacteria like Escherichia coli and Vibrio cholerae have circular DNAs.
Double-stranded DNA is approximately a thousand times in length than the diameter of the nucleus. For this reason, it is ultra compactly arranged inside the nucleus in a supercoiled manner. For example, a normal human DNA is of 2-meter-long which is supercoiled and marvellously compacted in such a way that it effectively fits in 10 um small nucleus.

What is RNA?
The RNA is a single-stranded nucleic acid prevalent among the lower prokaryotes. It is mostly a single-stranded unstable structure. RNA acts as the genetic material in prokaryotes which freely occurs scattered in the cytoplasm.
However, eukaryotic cells also contain RNA but not as genetic material. This RNA occurs in the nucleolus, ribosomes as well as also found freely in the cytoplasm. In eukaryotes, they facilitate different other processes such as protein synthesis.

Composition of RNA
Similar to the DNA, the RNA also is made up of three essential components that are –
Pentose sugar: This sugar molecule is one of the major distinctive elements between DNA and RNA. Unlike DNA, RNA comprises ribose sugar instead of deoxyribose.
Nitrogenous bases: RNA also constitutes the same purine and pyrimidine. But thymine is replaced by uracil in the RNA molecule.
Phosphate group: There is no difference in the phosphate group, and is as same as DNA.
Monomer of RNA
Ribo-nucleotides are the monomeric units of the RNA that are formed by the combination of ribose sugar, nucleobases and phosphate assemblage.
Around 70-12,000 ribonucleotides are stacked together in a linear fashion and are attached from end to end through 3'-5' phosphodiester bond.
Structural characteristics of RNA
RNA is a single-stranded polynucleotide chain that frequently folds, creating the helical loop in itself.
It consists of ribose sugar instead of deoxyribose in DNA.
Thymine here is replaced by uracil.
It doesn't follow Chargaff's rule as there is only a single strand and no scene of purine pyrimidine relation.
They are histologically detected with the help of the orcinol colour test, which identifies the presence of ribose molecules.
The RNA strand is highly susceptible to the alkali as they hydrolyse it into 2' 3'- cyclic diesters.
Types of RNA
The RNA is categorised as genetic RNA and non-genetic RNA.
A. Genetic RNA: The genetic RNA is one that contains the hereditary information that is transmitted from one generation to the next. This genetic RNA can be single-stranded or double-stranded.
B. Non-genetic RNA: In higher organisms, the RNA is present to support several other processes than as a genetic transporter. For this reason, it is referred to as a non-genetic form of RNA. They are synthesised from the DNA template but are not passed from generation to generation.
They are of three main types-
Messenger RNA
The messenger RNA is also known as mRNA, or nuclear RNA is associated with the protein synthesis mechanism.
In eukaryotes, the template DNA gets transcripted to this mRNA form which is later translated into proteins.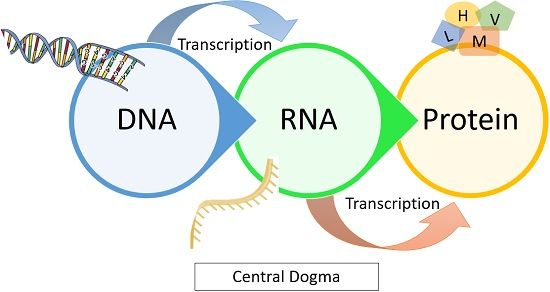 They are present in the ribosomes and freely scattered in the cytoplasm.
They are synthesised inside the nucleus as a complementary strand of template DNA.
Ribosomal RNA
They form about 80% of the total RNA content of a cell.
rRNA forms a considerable part of the protein synthesising ribosomal unit.
They play a crucial role in identifying conserved regions of tRNA and mRNA.
They mainly aid the catalytic reaction of protein synthesis.
Transfer RNA
Also called as t-RNA.
The smallest form of RNA comprises only 70-90 nucleotides only.
Since their primary function is to transfer the amino acids at the time of protein synthesis, therefore they are referred to as transfer RNA.
All the 20 amino acids have specific tRNAs to bind. These particular t RNA molecules transfer the amino acid to the newly forming polypeptide chain.
It also performs the role of adapter to translate the genetic sequence of mRNA in the respective proteins.
Key Differences Between Deoxyribonucleic acid (DNA) and Ribonucleic acid (RNA)
Deoxyribonucleic acid or DNA is a double-stranded structure that serves the role of transporter to carry the genetic information from one to the next generation in higher eukaryotic organisms. On the other hand, ribonucleic acid is a single-stranded molecule that acts as genetic material only in prokaryotes.
The backbone of DNA is deoxyribose sugar which is made up of a long chain of nucleotides, while RNA is of ribose sugar and a short chain of nucleotides.
The base pairing of guanine (G) is with cytosine (C) while adenine (A) is with thymine (T) in DNA and adenine with uracil (U) in RNA.
The function of DNA is to store the genetic information and pass it to other cells also, while RNA functions in coding, decoding and protein synthesis.
The DNA is susceptible to UV radiation, whereas RNA is less susceptible to UV exposure.

Conclusion
From the above discussion, we can say that DNA and RNA both are equally important, as one contains genetic material which is required to be transferred for further body development and functioning, while RNA helps coding, decoding, regulation and expression of genes.