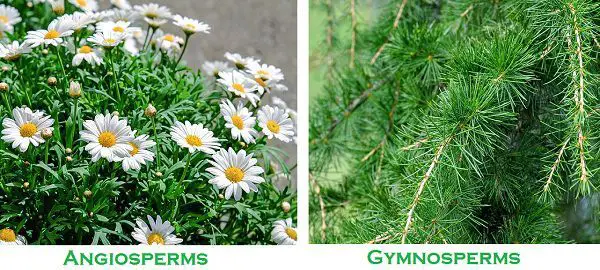 Both the gymnosperms and angiosperms are significant groups of kingdom Plantae. But they widely differ in their appearance, growth, characteristics, and reproductive pattern.
The gymnosperms on one hand bear the naked seeds. But the seeds of angiosperms are enclosed within the case or a covering of fruit. Gymnosperms have cones or strobilus as their reproductive organs. Whereas, the flowers are the reproductive entity in angiosperms.
The angiosperms make your surroundings beautiful by growing flowers. They may be unisexual or bisexual. While the gymnosperms are non-flowering plants and are strictly unisexual plants.
The xylem and phloem of gymnosperms lack vessels and companion cells respectively. In contrast, these structures are distinctively present in angiosperms.
The following context will elaborate on key differences between the gymnosperms and angiosperms.
Content: Angiosperms Vs Gymnosperms
Comparison Chart
Basis for Comparison
Angiosperms
Gymnosperms
It consist
Flowering ornamental, fruits, and all vegetables and hence called as flowering plants.
Gymnosperms contain all kind of pine, fir, pine, conifers, cedar, juniper, cypress and hence called as non-flowering plants.
Sporophylls
Accumulate to produce flowers.
Accumulate to form cones.
Bisexual/ Unisexual
Generally bisexual and rarely unisexual.
Cones are generally unisexual and rarely bisexual.
Structural differences
Sepals and petals present.
Sepals and petals are not been possessed.
Sporophyll bears short thalamus.
Sporophyll bears elongated central axis.
Megasporophyll is structured to form a carpel.
It is the woody part.
Stigma and Style present.
Stigma and Style absent.
Microsporophyll is represented by a stamen, consisting of stamen and filament.
Microsporophyll is represented by a broad, sterile head. No distinction in anther and filament.
Ovules are present inside the ovary part of the carpel; these are attached to the placenta.
Ovules lie on the megasporophyll and are not borne on the placenta.
Ovules are produced on a stalk or funiculus.
Ovules are sessile.
An ovule is covered by one or two thin integuments of narrow miropyle.
An ovule is covered by three layers of integuments of wide miropyle.
Usually four microsporangia or pollen sacs.
Varies from two (Pinus) to several hundred in Cycas.
The female gametophyte contains seven-celled and eight nucleate embryo sac.
The female gametophyte is parenchymatous and large.

Archegonia are absent
Distinct archegonia is present.
Tube cell and a generative cell is present in male gametophyte, which divides and form two male gametes.
One or two prothalial cell, stalk cell, tube cell and a body cell, which further divides into two male gametes.
The embryo contains one or two cotyledons.
Embryo contains one or many cotyledons.
Type of fertilization
Double fertilization process is there, where both the male gametes are in active state and one play the role for generative fertilization and other for vegetative fertilization or triple fusion.
There is only one generative type of fertilization and only one gamete is functional.

Development of seeds
It develops inside the ovary part of the carpel which matures into a fruit.
Seeds develop on the megasporophyll and fruits are never formed.
Use
1. Angiosperms are also the source of the world's hardwoods.
2. Flowering plants are economically important as they serve as a source of pharmaceuticals, timber, ornamental, fiber products, and other commercial uses.
Gymnosperms are known for providing softwoods such as pine, fir and use to make paper, the lumber, and plywood.
What are Angiosperms?
The angiosperms are the most developed plant phylum. More than 25,000 species the angiosperms have been found until now. And they constitute around 80 % of all the known green plants. This vast diversity ranges from small weeds to gigantic trees.
The word Angiosperm has its origin from the Greek words Angio (case/vessel) and Sperma (seed). They are flower-bearing species with unique accessory characteristics. They have complex structural organization and elaborate reproductive mechanisms.
Habitat of Angiosperm
Angiosperms have diversely spread to all environments involving natural and artificial ones. They can readily adapt to severe ecological conditions. Thus they even are present at higher altitudes of the Himalayas.
On the basis of environment, they are of four prominent types:
Hydrophytes: The angiosperms that are capable of surviving in the aqueous environment. They are the plants that either grow on the surface of water or even underwater.
Example: Hydrilla, Lotus, Duckweed.

2. Mesophytes: These plants restrict themselves in moderate environmental and climatic conditions. They mainly grow in terrestrial ecosystems.
Example: Mango, tomato, okra, eggplant.

3. Xerophytes: These plants can grow in a minimum amount of water. Mostly dominant in arid and dry climates like deserts.
Example: Golden barrel cactus, Pineapple, Barbary fig.

4. Epiphytes: Also referred to as Air plants. These plants grow on the surface of other plants. And consume the nutrients and moisture from them.
Example: Tiger orchids.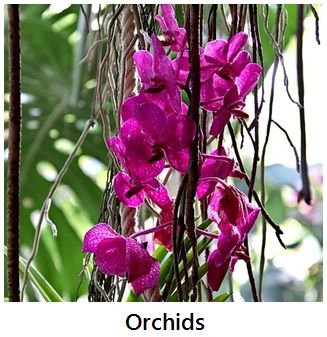 Characteristic of Angiosperm
We can differentiate their body into the distinct root and shoot regions.
They bear flowers that are the reproductive organs of the plants.
The flower has two distinct reproductive parts-androecium and gynoecium.
The ovary encloses the seeds within it.
Later, the ovary ripes into a fruit.
Well-developed vascular tissues- xylem and phloem.
They exhibit double fertilization.
Life cycle of Angiosperm
The reproduction in angiosperms takes place by two methods:
1. Vegetative Reproduction
They possess the tendency of totipotency. With this ability, a single cell is capable to give rise to the entire plant body.
2. Sexual Reproduction
Angiosperms consist of both male and female reproductive organs to perform sexual reproduction. The gynoecium is the female part that comprises stigma, style, and ovary. Whereas androecium is the male part that constitutes anther and filaments.
These reproductive organs can be present in one single flower i.e., bisexual. Or separately in two distinct unisexual flowers.
The gynoecium produces the female gamete called ovules. These ovules lie inside the ovary. On the other side, the pollen grains are the male gametes. And are found enclosed in the pollen sacs of the anther.
At the time of fertilization, the pollen sticks on the stigma and pass-through style to fuse with the ovule. This leads to the formation of a zygote that further transforms into a seed.
The seeds can now produce a new generation of plants. In this way sexual reproduction in angiosperms takes place.
Structural modification in Angiosperms
To adapt and survive the various environmental conditions, the plant parts get modified.
The roots of some angiosperms modify in order to store food. For example, potatoes, carrots, radish.
Some roots modify to perform physiological functioning like respiration. Such roots are adventitious roots or pneumatophores.
Leaves transform themselves as tendrils, spines, phyllodes, etc., for various purposes.
Classification of Angiosperms
We can classify angiosperm into two major groups:
Monocotyledons: These plants have seeds with only one cotyledon. They are further categorized into 90 different families.
Some features of monocotyledons:
Parallel venation.
Absence of secondary growth.
Only adventitious roots.
Scattered vascular bundles.
Examples: Rice, wheat, maize.

2. Dicotyledons: These plants possess seeds with two cotyledons. They are sub-divided into 342 families.
Some features of dicotyledons:
Reticulated venation.
Secondary growth present.
Elaborate tap root system.
Properly arranged vascular bundles.
Examples: Mango, tomato, pea, black gram, chickpeas.

Economic Importance of Angiosperms
Used in making ornaments.
They are hardwoods. Used as timber woods.
Various plant substances like fibres, resin, latex, gum, medicines are also obtained.
They provide food materials like pulses, vegetables, spices.
What are Gymnosperms?
The term gymnosperm was first introduced by Theophrastus. And a scientist named Robert Brown kept them under a separate group. It is assumed that they aroused around 200 million years ago in the late Paleozoic era. And were very prevalent while the Mesozoic era, especially Triassic and Jurassic periods. It is the smallest group in the plant kingdom including 900 species under 70 genera.
The word Gymnosperms came from Gymnos (naked) and Sperma (seed). As the name implies, they comprise the seeds that have no outer covering i.e., they are naked. This is because ovules are completely exposed pre and post fertilization. The leaves of gymnosperm modify into sporophylls. These sporophylls bear exposed seeds.
The gymnosperms are a bit more developed from Thallophyte, Bryophyte and Pteridophyte. But are less developed from the Angiosperms. Thus, they act as a connecting link between Pteridophyte and Angiosperm.

Habitat of Gymnosperm
The gymnosperms are perennial plants that remain green throughout the year. They stay alive for hundreds of years. They are dominant in equatorial countries that have tropical climates. Like Srilanka, India, Africa, South America, South East Asia, and China.
They grow in almost all kinds of landforms. For instance desserts, forests, alpines, and even snow-covered regions have plenty of them. This is because of their high order adaptability.
For example, the spiny pointed leaves avoid the gathering of ice on their surface.
Characteristic of Gymnosperm
They are sporophytic.
The plant body can be divided into three regions- roots, stems, and leaves.
Both the type of vascular tissues xylem and phloem are present. However, the xylem lacks vessels and the phloem is devoid of companion cells.
The reproductive parts are cones or strobilus.
A male cone constitutes a microsporophyll that contains micro-sporangia. The pollen grains or microspores are formed by the meiotic division of special cells inside the microsporangia.
The female cone comprises megasporophyll that may consist of a single or many exposed ovules. Inside the ovule female gametophyte have two or more archegonia.
Anemophilous pollination. The pollination doesn't necessitate water here. The male gamete is directly pollinated to the female vicinity.
During pollination, the pollen grains germinate to produce a pollen tube on female cones. Later they generate the male gamete that fertilizes with the female gamete to give rise to a zygote.
The zygote matures into an embryo. Further, the ovule and embryo combinedly form the seeds.
Life Cycle of Gymnosperm
The reproduction in gymnosperm depicts the alteration of generation. This means they have both the diploid and haploid stages within their life cycle. They have a dominant sporophytic phase that lasts for a longer duration. While the gametophytic stage is for a relatively shorter duration. This is because the gametophytic phases only monitor the formation of gametes in the reproductive organs.
The megasporangium is the diploid cells. They undergo meiotic division to generate four haploid spores inside the female cone (megasporophyll). Among these four only one survives i.e., megaspore. This megaspore further produces female gametophyte with mitotic division. One among the female gametophyte is an egg cell while the other is an endospermic mother cell.
The microsporangium inside the male cone or microsporophyll has male microspores. These microspores perform the mitotic division to generate male gametophytes i.e., pollens.
The pollens germinate to produce a pollen tube as soon as land on the female cone. The pollen tube has two sperms, among them, one degenerates. And the other one gets fertilized with a female gamete to produce a zygote. Zygote turns into an embryo which further develops into naked seeds.
Classification of Gymnosperm
We can classify gymnosperm into two subgroups:
 Cycadophyte
They are small plants.
Unbranched stem.
Large-sized compound leaves.
The area of vascular tissues is less than that of the cortex and pith region.
Classification of Cycadophyte

2. Coniferophyte
Bigger plants.
Branched trees.
The area of vascular tissues is more than the cortex and pith.
Classification of Coniferophyte

Economic Importance of Gymnosperm
They are softwoods. But are prevalently used as timber and firewood.
Pinus provide the turpentine oil used for painting and in the making of some medicinal drugs.
Some of the gymnosperms are even utilized for making papers.
Balsam used in laboratories for mounting is extracted from Abies balsamia.
Sago, a fasting food in India comes from the Cycas plant that is a gymnosperm.
People use Cycas leaves to make Brooms and ropes.­­­
Key Differences Between Angiosperms and Gymnosperms
Angiosperms consist are flowering plants, while gymnosperms are non-flowering plants.
The gymnosperms on one hand bear the naked seeds. But the seeds of angiosperms are enclosed within the case referred to as fruit.
Gymnosperms have cones or strobilus as their reproductive organs. Whereas, the flowers are the reproductive entity in angiosperms.
The angiosperms make your surroundings beautiful by growing flowers. They may be unisexual or bisexual. While the gymnosperms are non-flowering plants and are strictly unisexual plants.
The xylem and phloem of gymnosperms lack vessels and companion cells respectively. In contrast, these structures are distinctively present in angiosperms.
The angiosperms are hardwoods while the Gymnosperms are softwoods.
Summary
We all know that life on earth and the successful survival of many organisms depend on plants.  This is because we all living entities rely on them for our basic needs. Thus, it becomes more important to get a thorough knowledge about them. Angiosperms and gymnosperms being the groups of the plant kingdoms are important as they occupy more than 80 per cent of the whole kingdom.
But in terms of vegetation, the angiosperms dominates the earth surface specifically terrestrial habitat than any other group. It doesn't make gymnosperms less significant. They are important in the biological cycle in an equal manner.