The enzyme is a catalyst which enhances the rate of reaction in the body whereas hormones are chemical messenger which provides the signal to the cell for performing various functions. Secondly, enzymes act on the site where they are produced while hormones act distantly from the cell where they are produced and travel through body fluid.
Very few chances of occurring of diseases due to enzymes dysfunction, but hormonal dysfunction may give rise to life-long diseases; they are the main cause for body growth and development. Enzymes are substrate specific, affected by temperature and pH; their functions are regulated within the cell. Hormones trigger the cell to perform the specific function as well controls and coordinate the various activity of the body.
They both are important biochemical materials for all living being. They serve importantly in the body and are specific in their work. In this article, we will discuss that how enzyme differs from hormones on the basis of their functions and features.
Content: Enzyme Vs Hormone
Comparison Chart
Basis for Comaprision
Enzymes
Hormones
Nature
All enzymes are protein (exception is ribozyme)
Hormones are derivative of protein, amino acids, and steroids.
Molecular weight
Higher molecular weight.
Lower molecular weight.
Role
Enzymes are the catalyst, which enhances the biochemical reactions.
Hormones are the chemical messenger that provide signals to the cell for performing the particular function.
Carrier
Enzymes act at the place where they are formed.
Hormones are carried by the blood to different part of the body for giving signals to the cell.
Diffusibility
Enzymes are non-diffusable through a cell membrane.
Hormones are diffusable through the cell membrane.
Site of Action
Enzymes perform their action on the site(place) where they are produced.
Hormones perform their action to the different place from where they are produced and are carried by the blood.
Origin
Enzymes are produced in exocrine glands.
Hormones are produced in endocrine glands.
Factors affecting
Enzymes perform in particular temperature, pH.
No effect of pH or temperature or pH, but sometimes effected by external factors.
Specificity
Enzymes are substrate specific i.e. depends on the substrate to perform the function.
Hormones are target cell specific and depend on positive and negative feedback mechanism.
Metabolic activity
Enzymes take part in metabolism.
Hormones regulate the metabolic activity i.e. while giving signals to the cell for performing various body functions.
Effect of age
Enzymes have no effect of age.
Hormonal changes can be seen with age like puberty, menopause.
Dependency
Enzymes start performing only when it get the message from hormone.
Hormones do not depend on an enzyme.
Occurrence of Disease
Comparatively fewer chances of occurrence of diseases, and are only due to insufficiency
Hormonal disorders are very common, and even a single wrong message sent to the cell may give rise to life-long disease or disorders.
Utility
Enzymes can be reutilized after their function as they are the catalyst and remain unchanged.
Hormones cannot be reutilized once their function is over, they naturally get destroyed.
Examples
Oxidoreductase,
Transferase,Hydrolase etc.
Insulin, Glucagon, Thyroid (T3, T4).

Definition of Enzymes
Enzymes are chemical compounds present in both plants and animals, with high molecular weight and their role is to catalyze or enhance the rate of chemical reactions. They are secreted by the glands having ducts, also responsible for accelerating the rate of reaction (metabolic reaction).
All enzymes are proteins except the Ribozyme (which have some catalytic activity). Enzymes are industrially used in food processing industries, fermentation process, baking, as preservatives, medicines, textile industries, etc.
On the basis of reactions executed by the enzymes, they are classified into six major classes like Oxidoreductase, Transferases, Hydrolases, Lyases, Isomerase, and Ligases.
1.Oxidoreductase: These enzymes take part in oxidation-reduction reactions.
2.Transferase: These enzymes take part in carrying functional group from one molecule to another.
3. Hydrolases: Enzymes which take part in the hydrolysis of various compounds.
4. Lyases: These enzymes help in addition or removal of bonds by the different mode other than hydrolysis or oxidation, which result in the formation of a  new bond.
5.Isomerase: These enzymes are responsible for structural changes in the molecules, resulting in isomerization reactions.
6.Ligases: As ligate means 'to join,' so these enzymes help in the binding of two molecules with the use of ATP (energy).
Definition of Hormones
Hormones are secreted from endocrine glands; these glands are ductless due to which hormones are directly secreted into the blood, these ductless glands are Pituitary, Pineal, Thymus, Adrenal, Thyroid, Pancreas.
Autocrine: Hormones which act on the same cell from where it is released.
Paracrine: These kinds of hormones act on the nearby cell, from the cell it is released.
Endocrine: These are secreted by endocrine glands, released into the blood and act upon the distant cell.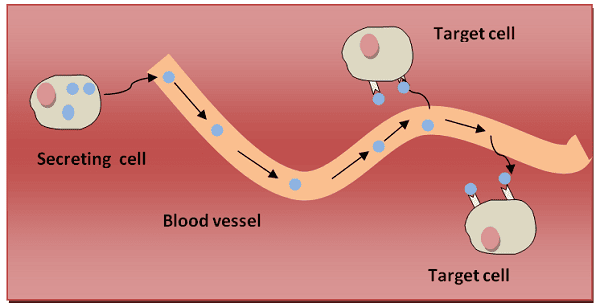 Hormones help in the cell to cell communication; they are the chemical messenger which provide chemical signals to the target cell to perform the specific function. These chemical signals are circulated through body fluids.
Following are the few activities of hormones:
Irregular production of hormones may result in lifelong diseases and disorders.
Hormones regulate the body at different stages of puberty, menopause, mating, reproductive cycle.
Helps in maintaining body temperature and thirst.
Regulates food metabolism.
Nowadays growth hormone is synthesized through Recombinant DNA technology, responsible for increasing the height of a person.

Key Differences Between Enzymes and Hormones
Following  points are the substantial differences between enzymes and hormones:
 All enzymes are protein (except ribozyme), but all proteins are not enzymes, whereas hormones are derivative of steroids, amino acids, and proteins.
Enzymes have higher molecular weight than hormones and they (enzymes) are non-diffusable through cell membrane but hormones are diffusable through the cell membrane.
Enzymes perform their function in the place where they originate but hormones travel to their target cell through blood and perform their function by giving the signal to the cell.
Enzymes take part in metabolism rather hormones regulate the metabolic activity and triggers the cell to perform various body functions.
Enzymes depend on hormones to provide a signal for performing its action, until and unless the signal is not provided to the enzyme it will not work.
Dysfunction of enzymes does not cause any severe disease but dysfunction of hormones may result in severe and life long diseases or disorders like cancer, thyroid, dwarfism, etc.
Conclusion
Although both enzymes and hormones are chemical compounds, there are a lot of differences them and even their functions are totally different, although dysfunctioning of anyone may affect the whole system of the body.