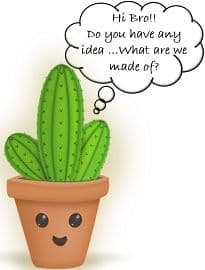 Just like animals, plants too have a unique and complex living pattern that is made possible by the numerous tissues making up their body. Plant tissues are classed as meristematic or permanent based on their structure, location, orientation, and function.
Meristematic tissues are made up of identical types of cells that are constantly diving, differentiating, and developing. Contrarily, permanent tissues are composed of cells that have lost their potential of division and are already differentiated into a specific shape and size.
The cells of meristematic tissue are smaller, having a six-sided box-like form and a thin cell wall. Cells of permanent tissue, on the other hand, come in a variety of forms and have a rather thick cell wall due to cellulose or pectin deposition.
Another feature that distinguishes them is the existence of vacuole. Since meristematic cells do not need to store food or water, vacuoles are either very small or non-existent. However, because permanent tissues have vast food, water, or oil reserves, the vacuoles in these tissues have a massive shape and size.
In this section, we will try to demonstrate the differences between meristematic and permanent tissue, as well as the modifications and variations that the plant experiences as a result of them.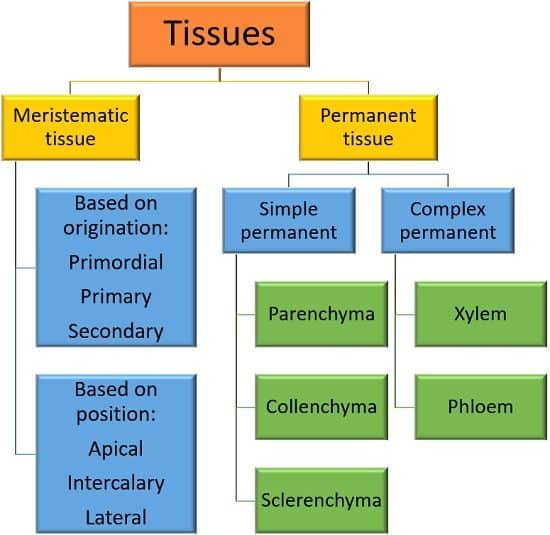 Content: Meristematic Vs Permanent Tissue
Comparison Chart
Basis of Comparison
Meristematic Tissue
Permanent Tissue
Meaning
Meristematic tissue is a simple and young tissue made up of a group of similar, immature cells that have the ability to continuously divide and grow.
Permanent tissue is the type of mature tissue; made of cells which had lost the power of division and has attained a specified shape and size.
Function
They are responsible for the growth and development of plant.
They perform photosynthesis, provide protection and support to the plant body and help in conduction of material.
Types
Are of three types:
a. Apical meristems
b. Intercalary meristem
c. Lateral meristem

Are of two types:
a. Simple permanent
• Parenchyma
• Collenchyma
• Sclerenchyma
b. Complex permanent
• Xylem
• Phloem

Cell Wall Composition
They are composed of cellulosic cell wall.
Cellulosic (Parenchyma) or lignified (sclerenchyma) cell wall.
Division Ability
They efficiently and continuously grow, divide and differentiate.
They are already differentiated cells that had lost the division potential.
Cellular Constitution
Made of only one type of simple, undifferentiated cells.
Made up of one or more than one type of differentiated cells.
Intracellular spaces
They are tightly and closely arranged thus lack intracellular space.
They possess large intracellular spaces.
Position
They are confined to some restricted zones of the plant body such as shoot and root apex.
They are found in an equally distributed manner throughout the entire plant body.
Nature of cells
Composed of only living cells.
Made up of living or non-living (dead) cells.
Metabolic rate
They have high metabolic rate as they divide continuously.
They have low metabolism rate.
Storage
Do not have any food or water reserve.
They store food in the form of starch and also stores water and oil secretions.
Size and Shape
They are small in size—Round, oval, polygon or isodiametric in shape with a large lumen.
Large in size. Of varying shapes with a narrow lumen.
Vacuoles
Vacuoles are either very small or are permanently absent.
Large vacuoles are present for storage purposes.
Cytoplasm and Nucleus
Prominent nucleus with dense cytoplasm.
Cytoplasm and nucleus may or may not be present.
What are Meristematic Tissues?
The word meristematic comes from the Greek word 'meristos' that means 'to divide'.
Definition: The tissue is composed of identical, immature, constantly diving and differentiating cells and plays a vital role in plant growth and development; such tissues are called 'Meristematic tissue'.
Characteristics of Meristematic Tissues
They possess a unique ability to grow and divide indefinitely.
Meristematic tissue cells are immature, meaning they have not yet differentiated into any specific form.
The cells are generally hexagonal, circular, oval, or isodiametric in shape.
They have cellulosic cell walls that are thin and elastic.
The cells of these tissues are tightly bound together; they lack intracellular gaps.
They don't have to store food or water; their vacuoles are small or non-existent.
Both the rate of respiration and the rate of metabolism are extremely high.
Where are the Meristematic Tissues located?
Because of their potential to divide and generate new cells, meristematic tissues are crucial for plant growth and development.  As a result, these tissues are primarily localized in the areas where the plant grows in length and girth.
These meristems are present at the apex of the shoot and root. Here, meristematic cells divide here in order to lengthen the stem and roots.
They are situated at the base of internodes, where new leaves and buds emerge.
They are also found in the outer portions of stems, where they aid in the secondary growth of plants. The thickness and girth of the stem are increased by these meristems.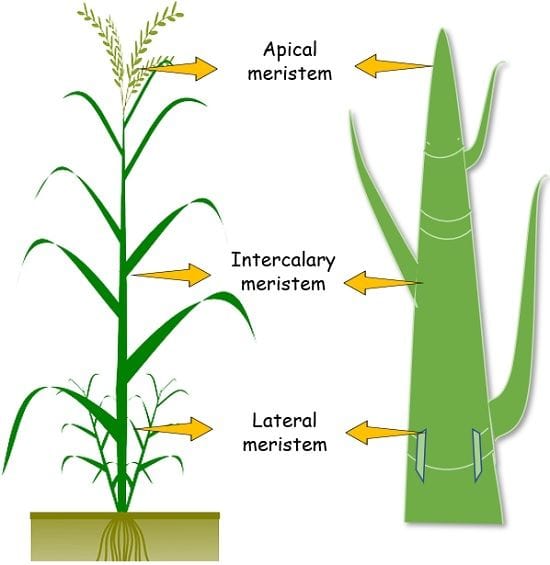 What are the types of Meristematic tissues?
The meristematic tissues can be categorized on the basis of their origination and position.
There are three types of meristematic tissues on the basis of their origination and development:
Primordial meristems: These are the initial meristems that are found in a very small region at the tip of the shoot or root. They undergo continuous cell division to give rise to primary meristems.
Primary meristems: These are present just below the primordial meristems. Here the cells are always in the active state of division. They give rise to primary permanent tissue. They are liable for the formation of the basic infrastructure of the plant body.
Secondary Meristems: They control the secondary growth of a plant, i.e. the circumference of stem or root. The lateral meristems are the example of secondary meristems.
On the basis of the position of meristematic tissues, they are of three types:
Apical meristems: Are located in the apices or tips of the shoot and root regions. Their main role is to elongate the plant length. For this, meristems sustain the balance between self-renewal and organ formation from marginal cells.
 Intercalary meristems: They are situated at the basal region of nodes and internodes. They facilitate the regrowth of the damaged and wounded organs of a plant. For example, the leaf blades of weeds and grasses rapidly regrow after the cattle graze over them.
 Lateral Meristems: They are also known as secondary meristems since they are responsible for the secondary growth of the plant. Secondary growth refers to the enhancement of the girth of the stem or root region. The cork cambium and vascular cambium are examples of lateral meristems.
What are the Permanent Tissues?
The plants are living but immobile creatures. Thus, they have certain tissues that facilitate the conduction of materials, provide mechanical support, and store the necessary products. These tissues are permanent plant tissues.
Definition: The tissues made up of a group of non-diving, already differentiated, one or more than one type of similar or complex cells; such tissues are called 'Permanent tissue".
Characteristics of Permanent Tissues
The cells of permanent tissue have lost their power to divide and have taken on a fixed structure and size.
The cells of permanent tissues are either alive or dead.
These cells have thick cellulose and pectic deposition cell wall.
These tissues are made up of cells of the same simple kind or a combination of simple and complex cells.
They have giant vacuoles because they have vast food stores in the form of starch.
Note: These vacuoles can sometimes be so enormous that they encompass nearly 95% of the cellular space.
Unlike meristematic cells, these are present throughout the plant body.
The cells are separated by intracellular gaps.
Their metabolism and respiratory rate are also slow.
Where are the Permanent Tissues found?
Permanent tissues act as transporters because they are responsible for conducting essential components throughout the plant's body. They are also required to make the plant stronger and thicker.
To fulfil these roles, the permanent tissues can be found in practically every section of the plant, from the shoot to the root region.
What are the types of Permanent Tissues?
On the basis of cellular composition, the permanent tissues are classified into two categories:
Simple permanent tissue
Complex permanent tissue
1. Simple Permanent Tissue
These are referred to as simple as they are made up of only one type of cell, resulting in homogeneity throughout the tissue.
They are categorized into three different types on the basis of different parameters:
Parenchyma
These are constructed using clusters of isodiametric cells that have an oval, spherical, or polygonal shape. They have intracellular gaps and a cellulose cell wall that is not very thick.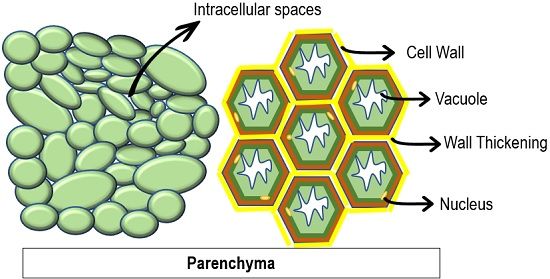 Functions of parenchyma:
Acts as storage compartments to store food and other materials.
The parenchymatous tissues of leaves and other green parts function to stock chlorophyll. These specified parenchymas are called chlorenchyma cells or chlorenchymatous tissue. Photosynthesis is carried out by these cells in order to produce food in the form of glucose, starch, and other carbohydrates.
They also serve as the airbags in the aquatic plants, which enables them in floating efficiently above the water. These parenchymas are known as aerenchyma.
Collenchyma
Collenchymatous tissue is made up of living cells with unevenly thick cell walls. Because of the significant deposition of cellulose and pectin, the cells are thick at the corners and connecting ends between two cells.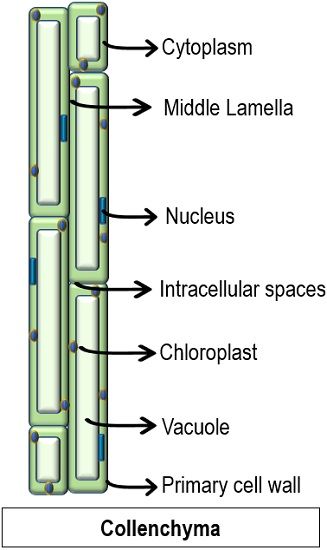 Functions of collenchyma:
Provides mechanical and tensile strength to the plant, which prevents wind-induced bending and inclination.
Reverse food by larger vacuoles.
They give mechanical toughness, which prevents the easy tearing of plant parts.
Sclerenchyma
Sclerenchyma is the hard tissue that is made up of cells with very little protoplasm and a very thick cell wall. Because of the extensive deposition of lignin, the cell walls are thick. Due to this thickness, they often lack intracellular spaces.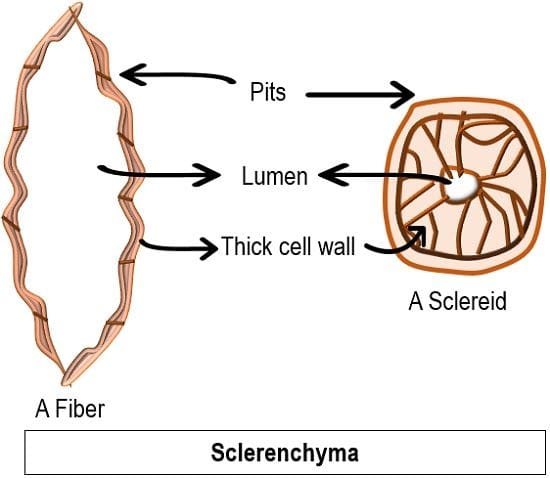 Functions of sclerenchyma:
They enable the plant body to withstand the physical and harsh environmental conditions by providing the necessary mechanical and tensile strength.
They make up all the hard parts of a plant like seed coat, bark etc.
2. Complex Permanent Tissue
These permanent tissues are called complex as they are made from multiple types of cells. All different forms of cells collaborate and coordinate to perform a specific function.
Complex permanent tissues are also known as vascular tissues. They act as conductors, forming a network of pipes that transport food, water and other chemicals throughout the plant.
Based on the material transported, the complex permanent tissues are classed as:
Xylem
The xylem is a type of vascular tissue that facilitates the plant to move water and sap throughout its body. Plant roots are liable for absorbing water from the earth. As a result, the xylem only transports water in one way, from the roots to the rest of the plant body.
Xylem tissue cells are nearly dead, have dense cell walls, and offer mechanical support to the plant.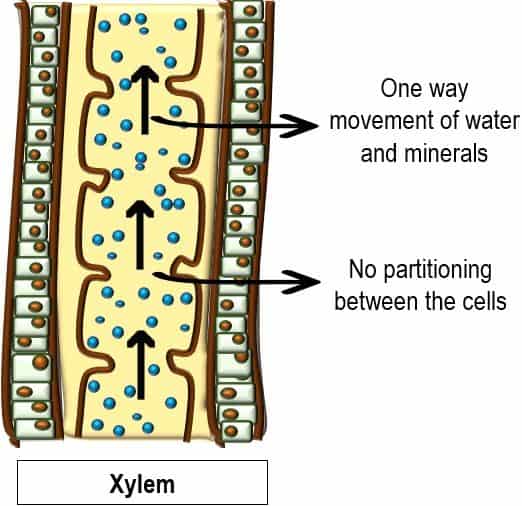 Xylem consists of four different kinds of cells:
Xylem fibres
Xylem parenchyma
Tracheid
vessels
Phloem
These vascular tissues translocate organic food that has been created by photosynthesis. Because the leaves (and other green portions) are the plant's kitchen, these tissues transport the materials both ways from up to down and vice versa. Mainly from leaves to the other parts of a plant.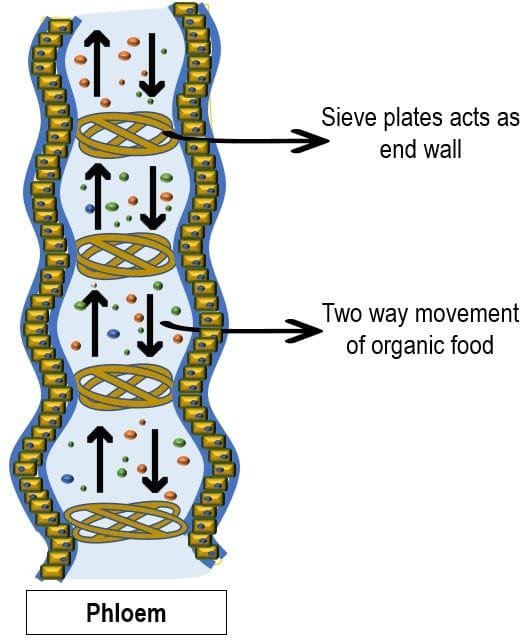 Phloem comprises four types of cells:
Phloem fibres
Phloem parenchyma
Companion cells
Sieve tubes
All of these cells are living except phloem fibres.

Key Differences Between Meristematic and Permanent Tissues
Meristematic tissues are constructed from ever dividing and differentiating cells. These newly generated cells contribute to the growth and development of a plant. On the other side, the permanent tissues are made from already matured cells which neither divide nor differentiate later.
The central role of meristematic tissues is to enhance the plant length and girth through active division. In contrast, the permanent tissues play the role of conductors and deliver the essential components from one end to the other.
As per their functions, the meristematic tissues are localized in certain specific zones from where the plant grows, and its new parts emerge out. Contrarily, the permanent tissues being the plant transport machinery are found in almost all aspects of a plant.
The meristematic tissues have an uncomplicated arrangement due to the presence of only one type of cell. The permanent tissues, on the other hand, have a comparatively intricate configuration as they consist of multiple types of cells.
The meristematic cells have to divide constantly in order to amplify the growth of a plant. For this reason, they don't require any food or reserves. Thus, the vacuoles in these tissues are either very small or are absent. However, permanent tissue contains mature cells that are not dividing; thus, they must conserve food and water. As a result, they have extremely large vacuoles.
Summary
Tissues are a collection of cells that work together to perform a certain job. Plants have intricate lifestyles; thus, each and every tissue is assigned a particular role. The plant tissues are categorized as meristematic and permanent based on their division potential, purpose, and position.
Meristematic tissues are made up of identical, living cells which actively divide and differentiate to assist plant growth. They are restricted to particular locations like root and shoot apices, peripheral margins and internodes.
The other way around, the formation of permanent tissues is the result of the combination of more than one type of cell. These tissues constitute alive or dead cells, which have thick cell walls and giant vacuoles. Their prime function is to transport the essential chemical components within the plant body.
Despite the fact that the functions of both tissues are mutually incompatible, both of them must collaborate and coordinate for the plant's proper growth and development.