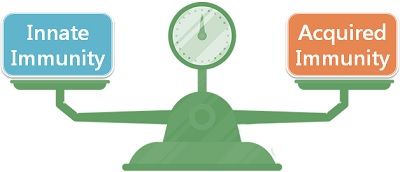 Our body comes in contact with millions of disease-causing pathogens throughout the day. But still, we are not ill or infected all the time. The credit for this goes to our immune mechanism i.e., our immunity. We have two sorts of immunity-Innate and Acquired.
Both of them are very essential for the healthy survival and well-being of an individual. But they widely differ in their appearance and working mechanism. The most significant difference between them is their time of occurrence.
Innate immunity on one hand is present in our bodies from the time of birth itself. In contrast, a person acquires adaptive immunity by gradual exposure to pathogens during their life span.
Innate immunity is a first-line defence mechanism of our body. Thus, its primary motive is to immediately cease the proliferation of the pathogen inside the body. It, therefore, generates a broad spectrum, rapid and non-specific response.
In contrast, the purpose of adaptive immunity is to recognize the foreign pathogen and produce an ultimate solution to get rid of it. For this reason, it takes a long time to generate any response. The response generated is delayed but very specific.
Innate immunity identifies the foreign antigen but is unable to memorize it and thus, the response produced doesn't last for long. On the other side, the response of adaptive immunity remains long-term due to its ability to remember the pathogen. Thus, on the second encounter of the same antigen, the response sustains due to the production of memory cells.
In this section, we aim to elucidate the key differences between innate and acquired immunity along with a comparison chart.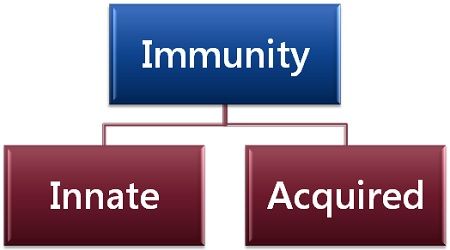 Content: Innate Vs Adaptive Immunity
Comparison Chart
Basis of Comparison
Innate Immunity
Adaptive Immunity
Meaning
It is the first line defense that is naturally present by the genetic makeup and physiology of a person from the time of birth.
It is the defense mechanism that a body acquires in life time after getting exposed to a foreign antigen or pathogen.
Also Known as
Native Immunity
Acquired Immunity
Example
• The nasal passage has the mucous lining that traps the unwanted dust, microbes and other pollutants.
• The acidic environment in stomach kills many unwanted pathogens.

• The vaccines given to the children produce the immunity against specified pathogenic antigens.
• Chicken pox rarely occurs twice in the life time as the body already has produced antibodies during the first encounter.
Specificity of response
Can identify wide range of foreign pathogen but can't differentiate between them. Thus it generates a non-specific response.
Identifies and differentiates foreign antigens. Thus, it generates highly specific and sensitive response towards a respective antigen.
Response time
Produces a rapid response in very less time.
Produces a delayed response that may require 4-5 days.
Constituents
It comprises anatomical, physiological, phagocytic and inflammatory barriers.
It constitutes B lymphocytes and T lymphocytes.
Potential
Has low and limited potential.
Has high potential to identify, counter and evade the infection causing foreign antigen.
Memory
It can recognize but can't memorize the foreign entities. Thus, unable to generate a potent response after repeated invasion.
Can potentially recognize and memorize the specific foreign antigens invaded before. Thus produces a rapid and strong response in the repeated encounter.
Development
Since it prevails in both vertebrates and non-vertebrates. Thus, it is considered as an older and evolutionary kind of immunity.
It is only present in vertebrates with high level structural and physiological organization. Thus, it is considered as recently developed immunity.
Allergic response
Doesn't produce an allergic response.
Sometimes generates immediate or delayed hypersensitivity as well as allergic responses.
Presence
Is always found in the body from the birth of individual.
Is developed with gradual exposure to the foreign antigens throughout the life of the individual.
Barriers
Temperature, Interferon, cytokines, mucous lining, lysozymes, interleukin, etc.
Spleen, lymph nodes and vessels, Lymphoid cells etc.
Inheritance
It gets inherited from one generation to the next.
This very rarely gets transmitted from parents to the next generation.
Diversity
Limited diversity due to limited encoded receptors.
Greatly diverse due to the presence of many receptors developed by genetic recombination of receptor genes.
Dominance
Dominant in the initial stage of invasion and infection.
Actively dominates the middle and late stages of infection.
What is Innate Immunity?
The human body comes in contact with millions of potentially hazardous, infection-causing agents all the time. Our body doesn't have enough time to wait and analyze the situation and then react. In this time lag, the pathogen might become more powerful and might increase its number in an exponential manner.
To avoid such a scenario, the body has instant machinery that responds as soon as the pathogen encounters. We refer to this machinery as innate immunity.
This immunity is phylogenetically older and evolutionary as its elements are successfully discovered in almost all multicellular entities including some invertebrates.
Definition of Innate Immunity
"It is the type of immunity that serves as a first-line defence mechanism against any foreign antigen".
Purpose in Innate Immunity
The prime motive of this immune mechanism is to prevent the infection at a very early stage. Thereby ceasing the pathogen from causing any further damage to the body.
Characteristics of Innate Immunity
The fundamental innate immune system lies naturally in our bodies from the time of birth. Thus, this immunity doesn't undergo any prominent change after the pathogen encounter.
The host body uses this immunity to generate a response against invading antigen. It tries its level best to cease the growth of pathogens as well as to eliminate them. For this purpose, it produces a broad spectrum response that is non-specific.
Innate immunity can identify the foreign body but it fails to memorize it. Thus, on the repeated encounter, this immunity is unable to recognize the pathogen. As it has no previous memory, it again induces the response with the same characteristics and magnitude.
Mechanism of Innate Immunity
Innate immunity prevents the entry of pathogens into our bodies. As the pathogen enters inside, this immunity tries to stop its further growth. And also prevents the establishment of the infection. It also works efficiently to clean out the cellular debris of both the host and pathogen.
The response is non-specific and is produced by pattern recognition molecules (PMRs). These PRMs express a broad spectrum response against foreign invasion. It tries to eradicate the foreign antigen. Thereby hindering the establishment of infection until specific adaptive immunity comes into play.
Relation between Innate and Adaptive Immunity
To attain optimal adaptive immune response, the contribution of innate immunity is essential. Anatomical and physiological barriers are present in the first phase of the response. Phagocytic and inflammatory barriers don't pre-exist and get stimulated when the antigen enters. Thus, they are play part in the second phase of the innate immune response. These second phase responses pave way for a specified adaptive immune response. Thus adaptive response is only possible only if the innate immunity provides enough time to recognize the antigen.
Components of Innate Immunity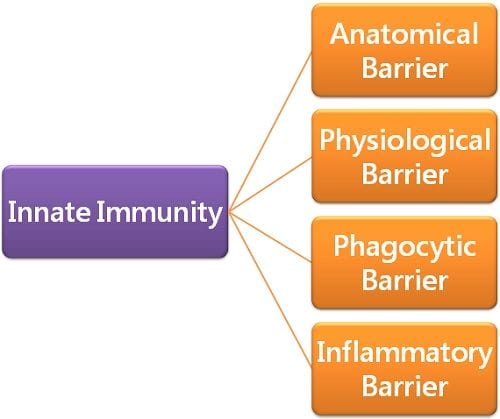 Innate immunity comprises four types of barrier:
1. Anatomical Barrier
These are the structural features of the body that make defensive lining between the internal body and the external environment. These features reduce the chances of entry of pathogens inside the body. Thereby, decreasing the probability of disease or infection.
Examples
Skin: The body's outer epithelial layering comprises several layers of compactly arranged keratinized cells. They serve as a sturdy barricade to obstruct the entry of any unwanted entity inside the body.
Mucous layering: Mucous layering in nasal passages traps microbes and other unwanted particles like dust, germs, pollens etc.
Sebaceous glands: They are present right below the epidermis. These glands secrete sebum that comprises lactic acids and some other fatty acids. The acids maintain the acidic pH of the skin, preventing any pathogenic growth.
2. Physiological Barriers
These barriers involve physiological factors like pH, temperature, and chemical secretions.
Temperature: Some organisms have slightly elevated temperatures than normal. This raised temperature creates unfavourable conditions for the growth of certain pathogens. For instance, the chickens are resistant to anthrax because of their high body temperature.
pH: The pH of some specified regions is significantly low i.e., acidic. This low pH destroys many infectious pathogens. Such as, the acidity of the stomach kills many bad bacteria in food.
3. Phagocytic Barrier
Our body has many phagocytic cells like macrophages, neutrophils and monocytes. These cells are highly reliable innate defence barriers. They are capable enough of digesting unwanted exogenous and endogenous particles. This process of elimination is phagocytosis.
The process of phagocytosis required the following steps:
a. Chemotaxis
b. Adherence
c. Ingestion
d. Digestion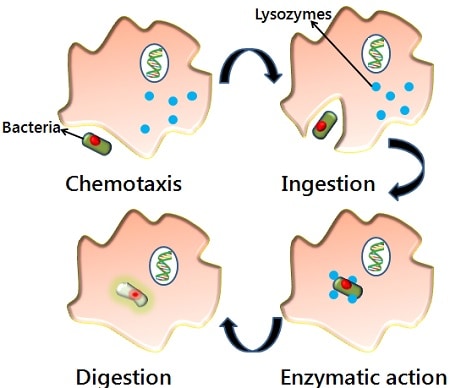 4. Inflammatory Barrier
Inflammation is a non-specific localized defence response. It occurs when our immune system fights against invading organisms. Inflammation occurs over abrasions, pathogenic attacks, chemical imbalances, or metabolic disturbances in cells. It manifests the symptoms like redness, itching, pain, swelling, and heat at the site of invasion or injury.
What is Adaptive Immunity?
Sometimes a foreign antigen is successful in bypassing innate immunity. In such a case, there is a need for a specialized targeting mechanism that is capable of shooting the exact size bullet to kill the foreign entity. This mechanism is the Adaptive immunity of our body.
Adaptive immunity is evolved around 500 million years ago in jawed fishes. This immunity is not found in lower organisms and is only restricted to vertebrates.
In contrast to innate immunity, the adaptive one is not present in our bodies by the time of birth. Instead, we acquire it gradually during the life span by encountering different antigens. This encounter produces specified receptors that deliver the required response.
Definition of Adaptive Immunity
"It is the immunity that develops over time as a result of exposure to numerous types of antigens."
Characteristics of Adaptive Immunity
Self and non-self recognition
Some cells possess specific markers to identify the self and non-self antigens. And to notify immune machinery not to attack the self ones. While telling it to produce a response against those who are recognized as non-self. This utterly unique property is referred to as self-tolerance. This prevents our immune system to harm our own molecules. This self-tolerance can be a failure under certain circumstances. Such a situation leads to autoimmune diseases.
The acquired immunity fabricates an antigen-driven response. The immune machinery analyzes the antigen thoroughly and discriminates among the other antigens. Further, it produces a response against that respective antigen. This ability to distinguish the antigens makes acquired immunity more specialized.
Diversity of Recognition Molecules
The immune system has a great potential to make massive diversity of antibodies. This lets it recognize millions of unique antigenic structures.
It is an essential characteristic ability of this immunity to memorize the antigen's first exposure. It allows us to generate a quick and more powerful response to the repeated encounter.
Components of Adaptive Immunity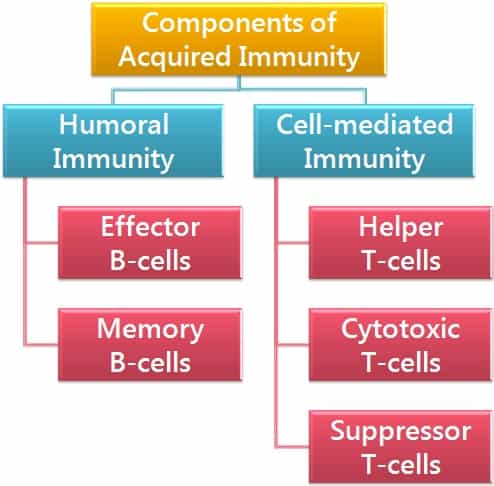 Types of Adaptive Immunity
There are two prominent types of acquired immunity:
Active Immunity
This is the immunity that an individual directly develops as a response to antigenic stimulus. Here, the body's own cells generate the antibodies either due to infection or vaccination.
It is a time taking process that slowly forms the antibodies concerning a particular antigen. But it is a durable and long-lasting immunity.
Example
Antibodies against the causal organism will have formed naturally in a person recuperating from an infection such as chickenpox. This will last for a long period.
After birth, every child is given a complete course of vaccination at different age intervals. These vaccines produce a mild immune response which ultimately leads to the formation of antibodies.
2. Passive Immunity
Passive immunity refers to the intake of already made antibodies inside our body. It provides an instantaneous aid to curb the infection. Antibodies are directly injected into an individual to get a faster immune response. Although it is a trouble-free method it might cause certain issues too.
Example
Mother's milk contains a variety of antibodies. These antibodies shield the baby from getting infected. This intake of ready-made antibodies is a sort of passive immunity.
The individual who recently caught the infection has antibodies in his body. These antibodies are directly transferred in the form of serum.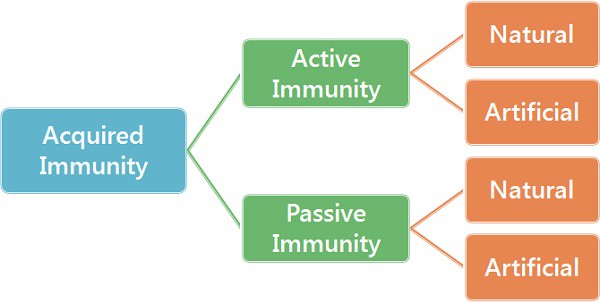 Key Differences between Innate and Acquired Immunity
Innate immunity is naturally present in an individual from birth. But an individual acquires adaptive immunity with continuous exposure to external factors.
Alternative names for innate immunity are native or natural immunity. Whereas adaptive immunity is alternatively referred to as acquired immunity.
Innate immunity is the first-line defence system of the body. This reacts and responds quickly as the foreign entity invades the body. It is dominant in the early infection phase. In contrast, adaptive immunity is the second-line defence. It takes to recognize the pathogenic antigen thus producing a delayed response. This response is dominant in the later phase of infection.
The response produced through innate immunity is immediate and non-specific. Whereas the response of adaptive immunity is highly specific but might take time (5-7 days).
Innate immunity has low potential and limited diversity. This is due to a limited number of encoded receptors. While adaptive immunity has diverse receptors because of continuous genetic recombination.
Innate immunity is inheritable. Therefore, gets inherited from parents to their children. Adaptive immunity is non-heritable and has to be acquired personally by every individual.
Summary
Immunity serves as a defence barrier that wards off the damage from diseases. It protects us from a certain number of deaths by getting ill. This immunity is of two main types- Innate and adaptive. Innate is present from our birth. It produces a non-specific and faster response. Whereas the adaptive one is attained through exposure to the antigens. It generates a specific but slow response.