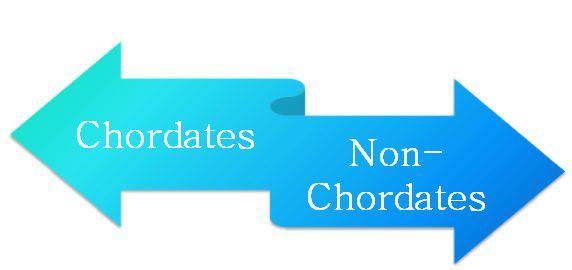 The animal has a cord or backbone in their body structure are chordates. Contrary, Non-chordates are the animals without backbone or notochord, this the vital difference between chordates and non-chordates is that the.
These animals belong to the different phyla of the animal kingdom. Also being same at the multicellular level, there is a lot of difference between patterns of organization of cells in this kingdom. Lower animals like coelenterates, sponges differ in cellular level of organization, at the organ level (radial and bilateral) Platyhelminthes and other members differ.
While higher animals like arthropods, annelids, mollusks, comes under Non-chordate and Aves, Reptiles, mammals fall under chordates, they all differ in some of their special physiological function and other unique features like body symmetry, digestive, circulatory or reproductive system, etc.
The design of classifying, the animal kingdom is broadly divided into several major groups called phyla. Till yet there are approximately 30 animal phyla recognized. The last and the major group of the animal kingdom was the phylum Chordata.
In this article we will consier some important points which distinguish the chordates to that of non-chordates:
Content: Chordates Vs Non-Chordates
Comparison Chart
| Basis For Comparison | Chordates | Non-chordates |
| --- | --- | --- |
| Respiration | Through gills or lungs. | Through body surface, gills,or tracheae. |
| Body temperature | Cold or warm-blooded. | Cold-blooded. |
| Notochord | Present at some stage or replaced by a backbone made of ring like vertebrae (present in embryo). | Notochord or backbone absent. |
| Haemoglobin | In red corpuscles (RBC). | In plasma or absent. |
| Nervous system | Hollow (central dorsal). | Solid (central nervous system). |
| Germ layers | Triploblastic | Can be absent or diploblastic or triploblastic. |
| Coelom | Truly Coelomate. | Acoelmate, pseudocoelmate or truly coelmate. |
| Symmetry | Bilateral. | Radial, bi radial, bilateral or lacking. |
| Metamorphism (linear series of body segments) | True Metamerism. | True or pseudo metamerism or absent. |
| Post-anal tail | Usually present. | Absent. |
| Grade of organisation | Organ-system. | Protoplasmic to organ-system. |
| Brain | Dorsal to pharynx in head. | Absent and above pharynx (if present). |
| Limb derivation | From several segments. | From same segment. |
| Gut position | Ventral to nerve cord. | Dorsal to nerve cord. |
| Pharyngeal gill-slits | Present at some stage of life. | Absent. |
| Anus | Differentiated and opens before the last segment. | Opens on the last segment or absent. |
| Blood vascular system | Closed | Absent and if present open or closed. |
| Heart | Ventrally placed. | Absent and if present dorsal or lateral. |
| Nerve cord | Single, dorsal, without ganglia. | Double, ventral, usually bearing ganglia. |
| Reproduction | Sexual reproduction predominant. | Asexual reproduction predominant. |
| Regeneration power | Usually poor. | Usually good. |
| Exoskeleton/ Endoskeleton | Both are present. | Only exoskeleton is present. |
| Example | Hemichordata, Cyclostomata, Aves, Reptiles, Amphibia, Mammals . | Protozoa, Arthropods, Annelids, etc. |
Definition of Chordates
Chordate is derived from the Greek word, where chord means 'cord or string', ata means 'bearing'. Chordate varies in range only till 49,000 of the species. It is commonly predicted that there are 2500 species of amphibian, 6000 reptiles, 9000 birds, and around 4500 mammals. Chordates very in size from medium to large in size, also from gigantic blue whale and the smallest fish.
The chordates are considered among the most ecologically successful and largest animals, existing today. They are able to occupy in any types of habitats and have made themselves adaptable to many kinds of situation, which make them fit to survive.
Chordates are found in fresh water (aquatic), sea (marine), in the air (aerial) or on land (terrestrial), from the poles to the equator. Birds and mammals have a constant body temperature due to which they are able to survive in cold climate, this is the quality, which no other animal has.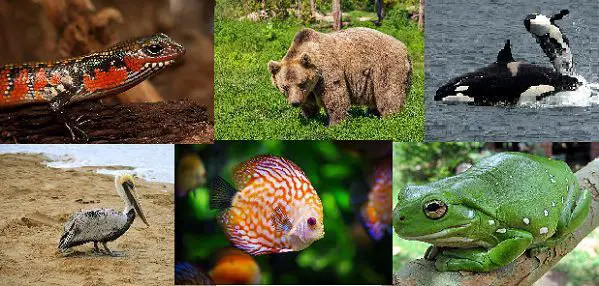 Some fundamentals features of chordates are:
Pharyngeal slits – These are the paired lateral gill clefts, which used to be present in all the chordates at some stage of their life. It is an opening, which connects from the inner side of the throat to the outer side of the neck.
Notochord – It is present below the nerve cord just above the digestive canal. It supports the nerve cord.
Dorsal nerve cord – It is a rod kind of flexible structure connecting the brain with organs and lateral muscles. It lies just above the notochord. It is present dorsally in the body, extending lengthwise in the body.
Post-anal tail – An extension of the body that extends beyond the animal's anus.
There are other advancements also of these phyla, which makes it distinguishable from others, like efficient respiration system, efficient circulatory system, living endoskeleton (with few exceptions), centralized nervous system, complete digestive system, body wall triploblastic with three germinal layers: ectoderm, mesoderm, and endoderm, separate sexes with rare exception, bilateral symmetry, coloration, sexual reproduction (usually).
This phylum is also divided into three subphyla, which are Urochordata or tunicate, Cephalochordata, and Vertebrata. Urochordata and Cephalochordata are also called as protochordate.
This division is also due to the notochord, as in Urochordata, the notochord is present only in their larval tail, whereas in Cephalochordata the notochord extends from head to tail region throughout their life. But in Vertebrata, the notochord is present at their embryonic stage, which gets further replaced by a bony vertebral column in the adult.
Definition of Non-Chordates
Non-chordates are also the part of kingdom Animalia. All animals share similarities among them, but apart from it, there are many distinct features too. The uncommon appearance of body system like digestive, reproductive, circulatory, the absence of notochord, pharynx not perforated by gill-slits make them differ from the chordates. Even the nerve chord which is present, is double, bearing ganglia and ventrally present, their heart is also dorsal in position.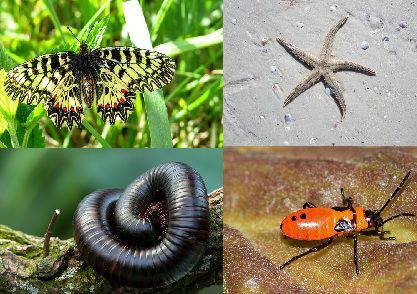 Non-chordates includes the phyla like Porifera, Coelenterata (Cnidaria), Ctenophora, Platyhelminthes, Aschelminthes, Annelida, Arthropoda, Mollusca, Echinodermata.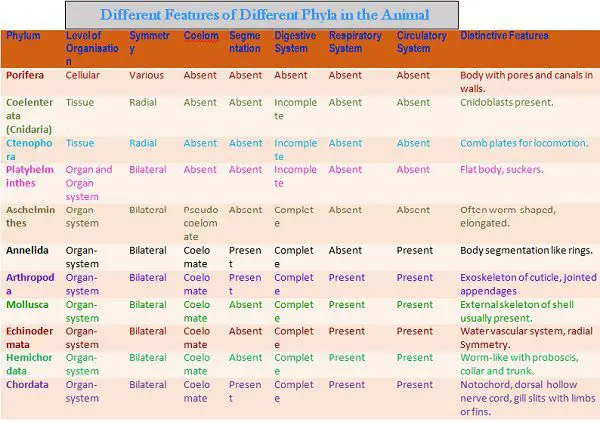 Key Differences Between Chordates and Non-Chordates
Following are the substantial key differences between the two:
In Chordates the respiration is through gills or lungs and in Non-chordates it is through a body surface, gills, or tracheae.
Respiratory pigment like hemoglobin is present in RBCs in chordates, whereas RBCs are absent, or present in plasma in Non-chordates.
The nervous system is hollow (central dorsal) in chordates while it is solid (central nervous system) in Non-chordates.
Triploblastic germ layers are present in Chordata; It is either absent or diplo or triploblastic in Non-chordates.
Chordates are called true coelomate, while Non-chordates can be acoelomate, pseudocoelomate or truly coelomate.
Notochord which is present usually at embryonic stage gets replaced by a cartilaginous or bony backbone made up of the ring like vertebrae, this is the most remarkable feature among Chordates and in Non- chordates notochord is completely absent.
The body is bilaterally symmetrical in chordates, while in the Non-chordates body can be radial, bi-radial in their symmetry.
The brain is dorsal to pharynx in the head in Chordates, while in Non-chordates it is absent or above pharynx (if present).
The gut position is ventral to nerve cord in Chordates, and it is dorsal to nerve cord in Non-chordates.
Pharyngeal gill slits are present at some stage of life in Chordates and it is completely absent in Non-chordates.
The anus is differentiated and opens before the last segment in Chordates, whereas in Non-chordates it is either absent or opens at on the last segment.
Closed blood vascular system is present in Chordates, while it is absent, open or closed in Non-chordates.
The heart is ventrally placed in Chordates; whereas it is absent or dorsally or laterally placed in Non-chordates.
Chordates can be cold or warm-blooded, while Non-chordates are cold-blooded only.
Nerve cord is single, dorsal, without ganglia in Chordates and in Non-chordates it is double, ventral, and with ganglia.
There (chordates) reproduction is predominantly sexual, which is asexual in Non-chordates.
Regeneration power is usually poor in Chordates, but Non-chordates have good regeneration power.
Endoskeleton/ Exoskeleton are present in Chordates; the only exoskeleton is present in Non-chordates.
Examples of Chordates are Cyclostomata, Aves, Reptiles, Amphibia, Mammals; while example of Non-chordates are Protozoa, Arthropods, Annelida
Conclusion
Complexities at cellular, physiological and functional level, is the noticeable difference among all kinds of animals. These features empower us to classify them broadly. From the Porifera which is at lowest level among the kingdom Animalia to the highest level of Chordata, development was been noticed at every stage, this may be due to the adaptations or changes in the environmental condition in which they use to live.
So, from the above article, we conclude that there is diversity in every form of life, and they all are characterized by some or the other distinct character whether they are lower animals like Porifera, Coelenterata, Annelida or higher like Mammals, Aves, Reptiles, etc.