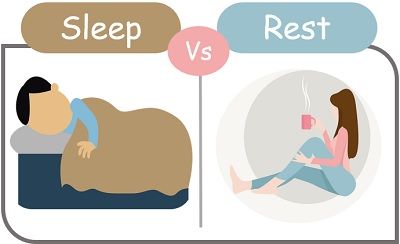 You certainly might not have thought that sleep and rest are two different things. Although they aim for the same thing, i.e., to relax the body both physically and mentally, they are two different processes.
Resting is a state where our body is chilled out from a stressed routine. It is a kind of activity that a person frequently does in order to regain his lost freshness or energy.
However, sleep is a kind of altered conscious state where the body shuts down all the physical and mental work. Instead, it only carries out the necessary metabolic functioning like respiration, blood circulation etc.
While sleeping, our body is in its repair mode. All the vital components revitalise, and the cells continually rejuvenate during sleep.
Whereas resting is a very versatile action. This can vary from person to person, place to place or purpose to purpose. While resting, the body is conscious, but it tries to calm all its senses and get rid of any sort of stress.
In this context, you will get to know the major differences between sleep and rest in detail.
Content: Sleep Vs Rest
Comparison Chart
| Basis of Comparison | Sleep | Rest |
| --- | --- | --- |
| Meaning | Sleep refers to the state of relaxation that is followed by altered states of consciousness, leading to relative inactivity of the brain and body. | Rest indicates the partially conscious condition of our body and mind where a person's physical and mental abilities are slowed down to get rid of stress, anxiety, tiredness, or just for a fun break. |
| Benefits | Completely relax the body and mind and provide time to revitalise the body and rejuvenate the skin. | It partially relaxes the body, but a person feels energised and fresh after resting. |
| Different Stages | Sleep involves several phases. Every phase is diverse and completed at a different time interval. | The rest comprises no sub-stages and, comparatively, it is for a shorter span of time. |
| Perception of the Environment | Here, a person loses his consciousness. Thus his ability to perceive the surrounding environment decreases. | As the person is conscious and awake, thus he is fully aware of his surroundings. |
| Frequency | Sleep has a decided cycle that is completed at a specified time period of the day (Generally, this period is night or afternoon). | Rest has no such obligation as a person can rest whenever he needs every couple of hours when feeling bored, exhausted, sleepy or tired. |
| Consciousness | The body, as well as the mind both, are in the unconscious stage. | A person, while resting, has a completely conscious body and mind. |
| Time Period | Good sleep demands 6-8 hours of your day daily. Thus, it is for a longer span. | Resting can even be for a few minutes. It never is very long and last for several hours. |
| Resuming Routine | After sleep, a person needs some time to become properly conscious and resume his daily work. | After resting, a person can immediately resume back his ongoing work. |
| Place Needed | For sleeping, a person needs a comfortable and peaceful place, i.e., devoid of any noise or disturbance. People prefer beds, couches or mats to sleep comfortably. | There is no such requirement of resting as it can be taken anyway, anywhere, anytime. As it never obligates isolation, a person can rest even in public places surrounded by people. |
| Dreams | While sleeping, there is a phase that includes dreams and visuals. | There are no dreams or visuals while resting. |
What is Sleep?
When you are sleeping, your body experiences a trail of changes that aids the overall rest of all body parts. It is the altered phase of consciousness, where a person has no proper insight into the surrounding environment. You can say that sleep is a kind of well-organised and well-structured form of rest.
The sleep process is carried out and controlled by the central nervous system. Your body shuts down unimportant functions during the sleep process and only performs the mandatory functions. While sleeping, the body restarts itself to repair and rejuvenate the skin and other elements.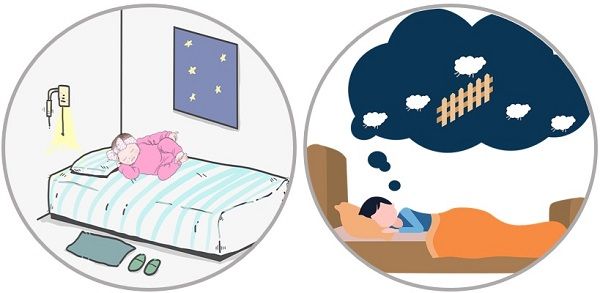 Definition of Sleep
"It is an unconscious and altered state of the body with no physical activity, emphasising the revitalisation of the body".
What happens when you don't sleep?
Lack of sleep may hamper the fundamental functioning of an individual. Scarce sleep or no sleep directly influences the most basic activities that are part of your daily life. This may include functions like:
Concentrating
Thinking
Rationalising
Physical activity
Moods
Understanding and reasoning abilities
Sleep promises the overall recovery from tiredness and promotes enhanced physical and mental well-being. It slows down the brain and body cells so that they can relax and can get engaged in the process of rejuvenation. Thus, you may experience complexity in carrying out day-to-day tasks without a night of proper sleep.
Stages of Sleep
Stage 1
It is the NREM (Non-rapid eye movement) stage. Here, the body starts dozing off from the conscious state. It acts as a transitioning period between wakefulness and sleep. This stage lasts for 5-10 minutes of each sleep cycle.
An individual in this phase is partially aware of the surrounding. And if you try to wake a person during this phase, he can easily be woken up.
It slows down the brain.
Heart beating and breathing falls down
Eye movements decrease
Relaxes muscles
Stage 2
It also is an NREM phase. According to recent studies, an individual spends most of his sleeping time, i.e., around 50 % in this stage. It lasts for about 20-25 minutes per sleep cycle.
The individual in this phase experiences less perception of the environment. Here the body prepares itself for stage 3 and further REM sleep, where the body can start its repair mechanism.
Here the body temperature drops
Eye movements are nearly absent
Breathing and heartbeat are more constant
Stage 3
This phase is also known as delta sleep, as here, the brain releases delta waves. When a person is in this phase, any external noise or disturbance may fail to wake him. It is a deep sleep phase; thus, all the repairing and intoxication activities occur here.
It relaxes and eases all the muscles
Blood pressure drops and then becomes constant
Slow but regular breathing
Prepares the body for its deepest sleep
Stage 4
This is a REM stage. In this phase, the body's senses remain aroused similar to the wakeful hours. But the voluntary muscles are paralysed and immobile. This restricts us to react physically out of our dreams. This stage initiates mostly after 90-95 minutes after sleeping.
The brain activates to a certain extent
The muscular machinery shuts down
Breathing becomes fast and variable
Rapid eye movements
This phase cements the visualisations; thus, a person dreams during this phase.
What is Rest?
The rest can be any condition where you are not engaged in any physical or mental hustle. It is a conscious and wakeful state as the brain here is alert and fully aware of the things happening around. Here, muscles, body organs, and mind are at ease.
Many people consider rest as evening rituals like listening to music, reading, or a bath that helps them sleep better, allowing them to feel more relaxed during the day.
Definition of Rest
"It is a wakeful, conscious state where the body is not involved in any physical activity and all the muscles and organs are calm and composed".
Rest is Different to All
For every respective individual, the concept of rest is different. Some will consider a short nap as a rest, while some will sit peacefully, enjoying the silence. Each and everyone has their own way to experience the rest.
Not necessary that the things you consider as rest will be considered the same by others.
For instance, listening to music is a sort of rest for some people. But others might consider it as noise and not rest.
Similarly, meditating might be a rest for some, while others might feel bored with it.
Thus, we cannot have a unified definition or criteria for determining the concept of rest.
Duration of Rest
The concept of rest relies on two basic facts:
The time should be less (minimum 5 min; maximum 15 min)
The frequency can be more (after every 3-4 hours of working)
Note: But the frequency of rest should not exceed a certain limit. This is because it may hamper your working and concentrating abilities.
Example of Rest
Yoga
Meditation
Listening music
Coffee/Tea breaks
Playing games
Enjoying family time
Playing musical instrument
Watching T.V./Any other entertaining content
Reading/Watching news
Calling friends
Reading novels/any book
Key Differences Between Sleep and Rest
Sleep is a state that provides physical and mental relaxation. Whereas the rest delivers spiritual and psychological comfort to the body.
While sleeping, a person is completely unconscious. But while resting, he is conscious.
A person losses his ability to perceive the surrounding environment during sleep. In contrast, he can properly perceive the surrounding environment when he is resting.
An individual sleeps once or twice a day after a decided interval of time. In comparison, a person can take rest several times a day whenever he feels tired or bored.
Sleep has several stages, but rest does not have sub-stages.
6-8 hours of deep sleep is mandatory for a healthy being.
In contrast, the rest last only for a few minutes.
A person needs a comfortable environment and a peaceful atmosphere for good sleep. But for rest, no such condition is mandatory. A person can rest at any given place.
Conclusion
A non-living machine needs to get repaired and serviced at regular intervals. Similarly, our body is also a living machine that needs to get refurbished after a stressful task.
Sleeping and resting are the two ways by which our body relaxes itself. While sleeping, the body tries to get rid of all the toxicity inside. Also, it tends to fill the body with new energy for the next day. Whereas resting does the same function as relaxation, this provides immediate relief to the body. It basically slows down the stress points and calms the brain.
For a healthy survival, a person needs both- sleep and rest insufficient amount. Negligence of either of them may lead to several mental and physical issues.