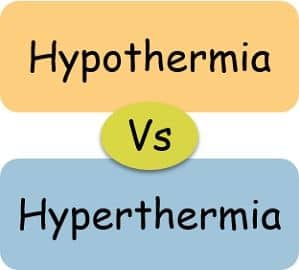 Hypothermia and hyperthermia are the situations related to overwhelmed body temperatures. Our body functions optimally around 37 °C.
The body can withstand the change of a few degrees up and down, but things might start malfunctioning if the temperature fluctuates beyond that.
Hypothermia, on the one hand, happens when you get exposed to a cold, wet or windy environment for a prolonged period of time. This might cause your body temperature to fall dramatically to low levels. The main reason behind this is that your body is losing more heat than it is generating. Due to this, the core body temperature goes down beyond the minimum temperature which our body can tolerate.
On the other hand, hyperthermia is the opposite situation where the core body temperature rises above the maximum high level. This is basically an umbrella term involving several health conditions related to temperature rise. The main cause behind this is elongated exposure to the hot and dry climate and also the continuous water loss from the body.
In such a situation, the body is unable to give out enough heat that is being produced inside. Thus, internal body organs start to malfunction by this excess heat.
The following context will highlight the key differences between hypothermia and hyperthermia with a comparison chart, symptoms, causes, treatment and preventive measures.
Content: Hypothermia Vs Hyperthermia
Comparison Chart
Basis of Comparison
Hypothermia
Hyperthermia
Meaning
Hypothermia is the situation where the core body temperature falls below the minimum temperature needed to continue the fundamental metabolism.
Hyperthermia is the overheating or rising temperature of the body. It occurs when our body absorbs or produces more heat than its losses.
Reasons
• Overexertion or prolonged exposure to cold temperature.
• Remaining in cold waters for a longer period of time.
• Wearing wet clothes in the cold outdoors.

• Extended exposure to dry and hot conditions.
• Wearing tight or heavy clothing in a hot climate.
• Having some disease that hampers your sweating abilities.
• Excessive dehydration or water loss.

Symptoms
• Slow, shallow or altered breathing
• Confusion
• Shivering
• Pale skin
• Drowsiness
• Slurred or mumbled speech
• Red cold skin (turns blue in later stages)

• Thirst
• Dizziness
• Nausea
• Sweating
• Dilated blood vessels

Treatment
• Drink warm fluids
• Moving to a warm environment
• External rewarming
• Drying or rewarming clothes

• Passive cooling
• Resting in a shaded and cold area
• Removing clothes
• Drinking cold fluids
• Air conditioning

What is Hypothermia?
Hypothermia begins as soon the body temperature goes below the average temperature, i.e., 37±2 ° C.
In such a situation, the body rapidly works to conserve the remaining heat by diverting the blood away from the skin, shivering, contracting and relaxing the muscles involuntarily, burning fat as fuel to produce warmth etc.
The body starts getting several confusing signals instantly after the temperature moves below the average temperature required by the body to maintain the elementary metabolic reactions.
The condition may become critical when the temperature falls below thirty. The body will automatically start losing the ability to warm itself in such low temperatures. The person constantly suffering from hypothermia might even pass out and can enter into a fatal state.
Heat loss during Hypothermia
During hypothermia, the body loses more heat than it produces by metabolic processes and muscle contraction. This continuous loss of heat disables the body to store the heat.
The four ways by which the body loses heat are as follows: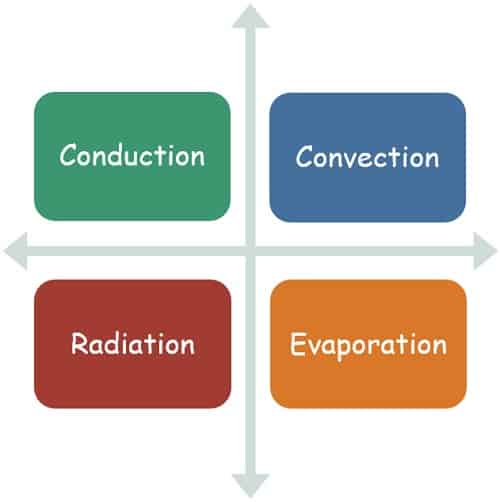 Evaporation: The water component from blood vaporises through the skin, drawing the heat off of the body.
Conduction: This is the direct transfer of heat from a hot body to cooler objects. For instance, coming in contact with cold surfaces will pass your body heat to that surface.
Convection: Coming in contact with cold wind or fluid flow will cause your body to give out heat. For example, when the cool water flows across the skin, the body will instantly lose its warmth to the cool water.
Radiation: Radiations always scatter the heat into the surrounding environment. Thus, the exposed skin will allow more heat loss if the surrounding temperature is lesser than that of the body.
Types of Hypothermia
Based on the level of temperature fall, we can distinguish hypothermia into its three stages: mild, moderate and severe.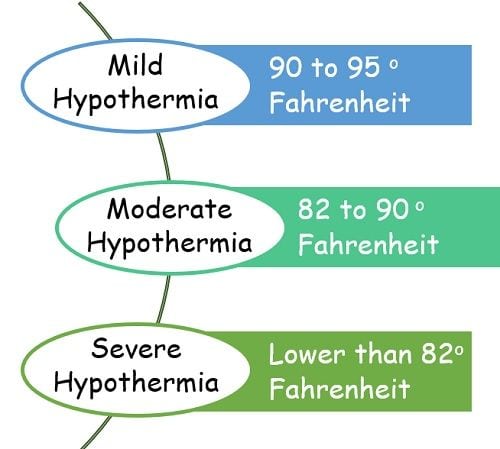 Mild Hypothermia
It is a curable situation which might not need urgent medical aid.
Symptoms of mild hypothermia are:
Increased heart rate
Drowsiness or lethargy
Sluggish responses
Constant shivering
Numbness in body parts
Pale and cold skin with red or blue patches
Moderate Hypothermia
Here, the criticality of the patient might increase as the body slowly starts to become irresponsive.
Symptoms of moderate hypothermia are:
Loosening of conscious state
No shivering
Slowed heart rate
Reduced breathing rate
Falling blood pressure
Unregulated kidney functioning
Confusion and memory lose
Severe Hypothermia
This is the ultimate stage where the body is unable to warm back by itself and starts to shut down. This condition is very severe and requires urgent medical help.
Symptoms of severe hypothermia might include:
Unconsciousness
Irresponsive body organs
Very slow and irregular beating of a heart
Non-responding pupil in light focus
Stiffening of muscles
Low breathing rate and pulse rate that is hard to sense
Risk factors of Hypothermia
Factors that may increase a person's susceptibility to Hypothermia include:
Infants and small children: They cannot adapt to the environmental changes and fluctuating temperatures rapidly. The heat loss in them occurs at a much higher rate than the adults. Thus, they are at higher risk of getting Hypothermia.
Elderly people: Their ability to instantly sense the temperature change is impaired because of deterioration of nerve endings. Also, they possess less fat insulation around their skin to protect them from cold.
Dementia or immobilising diseases: The persons who are suffering from the brain disorders like dementia or are dependent on others for their movement are at a higher risk of getting Hypothermia.
Alcohol or drug intake: Consumption of alcohol makes the person feels warm and hot. Thus, he feels cosy as more and more blood flows beneath the skin. Alcohol also impairs the person's judgement about his surrounding, and his body is not likely to respond optimally according to the situation.
Remaining in water for a long time: A person might suffer from Hypothermia after spending a prolonged period in cold waters.
Diagnostic Methods for Hypothermia
Temperature test
Electrocardiography (ECG)
Chest X-ray
Blood test
Computed tomography scan (CT scan)
Magnetic Resonance Imaging (MRI)
Treatment of Hypothermia
Hypothermia treatment depends on the degree of damage caused to the body. It involves two main stages- first aid and clinical treatment.
First aid treatment involves:
Moving the person to a warm and dry place.
Taking out clothes if wet
Rubbing hands and legs rapidly
Covering him with an electric heated blanket if available or with other layers of clothes
Making him drink hot beverages (expect for any alcoholic drink)
Clinical treatment involves:
Passive external rewarming: Insulating the patient with various layers.
Active external rewarming: Using heating aid for direct convection of heat.
Active core rewarming: Warming the body with intravenous fluids.
What happens with the sudden rewarming of the body?
Suppose if you are trying to rewarm the cold body, never increase the temperature instantly to the extreme levels like 80° C or 90° C. No doubt, the higher temperature will lead to an instant rise in body temperature but will also shock the body. This dramatic temperature increase won't give the body proper time to gradually restart the organs. Thus, the body will not cooperate with the changes happening around and lead to multiple organ failure.
What is Hyperthermia?
We have an in-built mechanism to eliminate the excess heat generated due to metabolic processes. This mechanism evolves lesser heat in colder situations to keep the body warm. While in hot weather, it releases more heat to keep the body cool.
But in hyperthermic conditions, this normal machinery of losing heat is not sufficient enough. This is because the body produces more heat than the heat getting evolved. Thereby, our body's core temperature starts rising above the tolerant temperature range.
As soon as the body temperature climbs beyond 40°C, the internal machinery gets hampered. The excess heat deteriorates the structural orientation of the important molecules, enzymes and chemicals involved. Ultimately the cells begin to die, and the body can no longer do its job properly.
Symptoms of Hyperthermia
Lethargy
Fatigue
Headache and dizziness
Heat syncope
Weakness
Nausea
Vomiting
Low blood pressure
Rapid respiratory rate
Blurry vision
Muscle aches or cramps
Seizure
Fluctuated blood pressure
Anhidrosis
Delirium
Balance problems
What are the different types of hyperthermia?
Heat Cramp: It occurs in the muscles during hot weather as a result of electrolyte loss from evaporating physiological fluids, including vital salts and ions. During the summer, it most usually affects the arms, legs, shoulders, and feet.
Heat Exhaustion: It is relatively more severe than heat cramp. This may raise your body temperature to as high as 104 ° F. Under serious situations, it can even lead to heatstroke
Heat Rash: Due to excessive sweating in a hot, humid environment, skin gets irritated and reddish marks develop at certain places. These are heat rashes that might look like small reddish pimples or blisters.  They usually occur under the breast, armpits, near the groin, elbow crease etc.
Heat Stress: Heat stress is basically related to the constant exposure to heat may be due to your job profile or the area you live in. For instance, people working as firefighters, miners, or on construction sites are in continuous contact with heat and sweat. This may cause heat stress.
Heat Oedema: It refers to the swelling of the body part because of heat waves.
Heat Syncope: This is the sudden fainting or dizziness that happens when you work actively in a hot climate.
Who is at higher risk of getting hyperthermia?
Infants, children below four or old age, people
People having a job which demands working in a heated environment
Having electrolyte imbalance
Suffering from diseases that hamper sweating abilities, such as cystic fibrosis
Being unfit due to being underweight or overweight
Having medical issues related to heart, kidney, lungs, livers etc.
Excess consumption of alcohol
People are taking heavy medical doses of sedatives, tranquilisers, stimulants etc.
Prevention from Hyperthermia
Stay in a ventilated area and avoid crowded places
Don't try a physical workout in a hot climate
Consume more and more fluids, and sports drinks to keep your body hydrated
Plan trips during the non-rush time
Avoids taking children, aged persons out in hot weather
Wear lightweight, bright coloured, loose-fitting clothes
Treatment of Hyperthermia
The treatment of Hypothermia is a two-fold process where you have to deal with two associated problems- heating and dehydration.
The primary approach for managing the extra heat involves:
Stop doing any physical activity that can generate more heat
Removing tight clothes
Airing or fanning the body
Resting in a shady place
Proper spacing for ventilation
The secondary approach for rehydrating the body includes:
Drinking cool beverages and plenty of water
Drinks supplementing the lost electrolytes and salts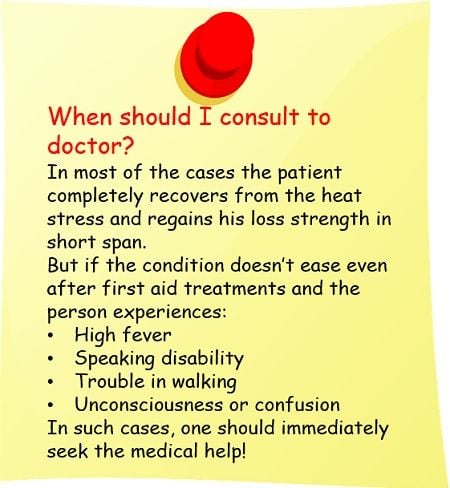 Key Differences Between Hypothermia and Hyperthermia
Hypothermia is the condition where the body temperature falls below the average temperature. While hyperthermia causes the rise of the temperature above the average temperature.
During Hypothermia, the body loses more heat than it produces via its metabolic processes. In contrast, in hyperthermia, the body cannot spend enough heat that the body generates, resulting in a temperature rise.
Hypothermia activates the heat preservation mechanism of the body. Contrarily hyperthermia triggers the heat loss mechanism.
Rewarming the body can treat hyperthermia. Whereas hypothermia is treated by cooling the body at a lower level.
Conclusion
In a healthy body, the reflex arm is responsible for regulating average body temperature. Both hypothermia and hyperthermia are the body conditions where this regulatory mechanism is inefficient to cater for extreme temperatures.
In this context, you will learn the significant differences between hypothermia and hyperthermia. And also, you will learn about their symptoms, treatment, risk factors, and preventive measures.