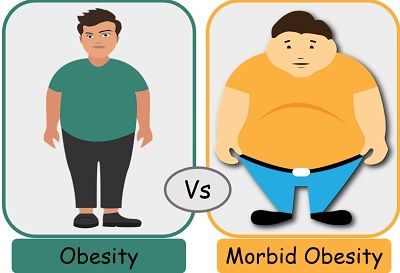 Obesity and morbid obesity are the two health conditions where the body starts depositing excess fat. But after comparing these two conditions, you can see that they vary a lot. We can differentiate them based on many parameters like body mass index (BMI), death rate, ways of treatment etc.
For an obese person, the BMI index ranges from 30 to 39. But the person suffering from morbid obesity will have BMI above 40. The chances of death are less in the case of obesity, while there is a high risk of death in morbid obesity.
Similarly, if we talk about the ability to move, obese persons are capable enough to perform daily routine tasks. In contrast, it becomes impossible for the patient with morbid obesity to perform basic movements without external aid.
The treatment procedure for obesity can be a daily exercise, proper medical aid, and healthy food. But the ultimate solution to treat morbid obesity is bariatric surgery which removes excessive fat.
There might be many men and women out there suffering from these two health conditions. Maybe you are one of them, or you may know an obesity sufferer. All of them need proper treatment to come out of this neglected health hazard.
This content will help you know the major differences between obesity and morbid obesity with a comparison chart, characteristics, causes and example.
Content: Obesity Vs Morbid Obesity
Comparison Chart
| Basis of Characteristics | Obesity | Morbid Obesity |
| --- | --- | --- |
| Meaning | Obesity is a state of acute fat deposition in some specific area of the body. | Morbid obesity is a stage of chronic fat storage and extreme gain of weight. |
| Body Mass Index (BMI) | Lies between 30-39 | Above 40 |
| Fatality Risk | Comparatively lower but higher than personal with normal weight | Very high. Around 6-12 times higher than normal |
| Mobility | It is difficult to exercise or work out for them. But they are capable of doing the basic movements of daily routine like walking etc. | It becomes very difficult for them to even move without the external aid |
| Treatment | They can be treated by medications, exercises and a healthy diet plan | Their situation demands a bariatric surgery to remove the excess fat |
| Basal Metabolic Rate (BMR) | Because of lesser physical movement, their metabolism is fast. High BMR. | Due to the excessive fat deposition, the metabolism occurs fast. Higher BMR. |
What is Obesity?
Obesity is a state of acute fat deposition in some specific body regions. It occurs when your energy intake is more while the energy expenditure is less. Extra energy accumulates in the form of fat which keeps on piling up over time. Consequently, it gives rise to obesity.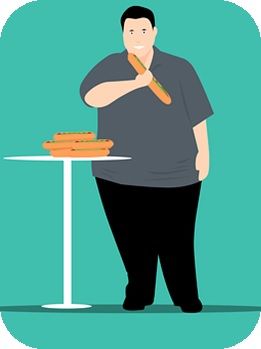 It is a complex state of the body that involves the pathophysiology linked to:
Genetics
Behavioural habits
Energy consumption
Energy utilization
Neuroendocrine pathways
This excess fat storage remains associated with several co-morbidities, an increase in the fatality rate, and decreased life expectancy upto 10 years.
Determination of Obesity
Most prominently, body mass index or BMI is taken as a reference for monitoring obesity. An obese person has a BMI ranging from 30 to 39. Obesity occurs when the fat percentage goes beyond 20.
We can also determine obesity by waist circumference. In obese men, the waist circumference is greater than 102 cm/40 inches. Whereas women are obese when their waist size becomes greater than  85 cm/35 inches.
BMI is denoted in kilograms per metre square.
Symptoms of Obesity
Overweight
Lethargy
Joint pain
Backache
Shortness of breath
Palpitation
Lowered self-esteem
Diagnosis of Obesity
The doctor might suggest some tests or physical measurements in order to confirm the presence of obesity. Some of them are: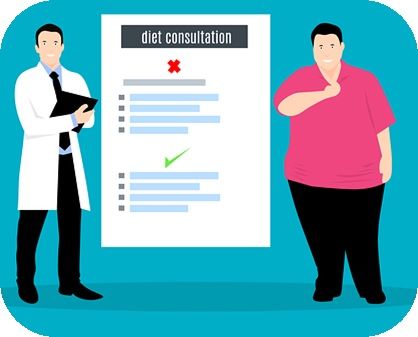 BMI Index
Measurement of waist circumference
Skinfold thickness test
Screening tests: MRI, CT scans, and ultrasound
Waist to hip analysis
Lipid profile test to detect the cholesterol level
Sugar test
Thyroid test
Heart-related tests like electrocardiograms etc.
Aetiology and Risk Factors of Obesity
The causative reasons for obesity can be behavioural, physical, medical, chemical or environmental.
Behavioural Causes
Poor Diet: With high calories, unhealthy cholesterol, and sugar. Mainly present the takeaway foods.
Poor eating patterns: Night eating, overeating, binge eating etc.
Inadequate or disrupted sleep
Cessation of smoking
Stressful lifestyle
Overconsumption of alcohol
Physical causes
The body needs to perform a basic physical workout in order to burn the taken calories. The lack of physical activity and a lazy lifestyle can raise the fat level in the body.
Medical Causes
Certain diseases or health issues can stimulate fat accumulation in the body. Some of them are:
Hypothalamus dysfunction: The hypothalamus makes and regulates the hormones necessary for sleeping, hunger etc.
Growth hormone deficiency
Hypothyroidism: Low level of thyroid secreted from the thyroid gland.
Hypogonadism
Depression and neurological issues
Polycystic ovarian syndrome in women
Cushing's syndrome
Pregnancy: Females gain a lot of weight during their pregnancy time. Later it becomes difficult to manage the accumulated fat, eventually giving rise to obesity.
Chemical Causes
Some of the medications trigger weight gain, which becomes difficult to lose. Ultimately it generates obesity.
Some medicines elevate the appetite range, thereby leading you to eat more.
Some primary drugs that induce weight gain are:
Beta-blockers
Sulfonylureas
Antidepressant
Anti-diabetic
Anti-psychotics
Corticosteroids
Environmental Causes
Our surrounding environment is changing with every passing second. These modern-day changes play a crucial role in causing obesity in today's era. We all react differently to the changes happening around us because of our unique genetic framework.
Some of us adapt the changes like food adulteration, deprivation of the nutrients in the food etc. While some suffer a lot from these changes. Obesity is one of the consequences of these constant changes.
Medical complications involved in Obesity
Obesity might lead to multiple health complications. It directly or indirectly hampers all the vital metabolic functions and important organs.
Some of the major complications are:
Type II Diabetes
Liver diseases
Hypertension or High blood pressure
Palpitation and other respiratory problems
Osteoarthritis
Sleep apnoea
Cancers of breast or colon
Gastroesophageal reflux
Heart stroke and other cardiovascular disorders
Gall stones and other gallbladder issues
Gout
Treatment of Obesity
In order to get rid of obesity, a person needs to attack it from all directions. Not just the concept of eating less and exercising more can help in its treatment.
A patient needs psychical, physical, social as well as medical help to regulate the fat level.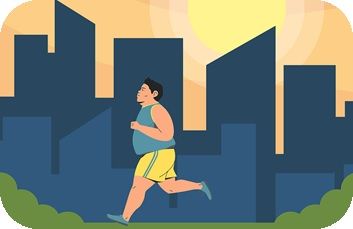 Taking a healthy balanced diet with proper eating.
Avoiding junk food and unhealthy fat.
Proper counselling sections to keep the patient positive and avoid depressive thoughts.
Social support from family, friends and colleagues.
Some useful medications with a doctor's recommendation.
The above-mentioned activities can help a person overcome the problem of excess fat.
What is Morbid Obesity?
In 1963, two healthcare workers coined the term "morbid obesity" to justify insurance claims for persons with a BMI of more than 40; who underwent intestinal bypass surgery for weight loss.
In a medical setting, the term morbidity refers to an illness or disease.
Morbid obesity is the extreme state of fat deposition. People often refer it to as Class III obesity nowadays.
It elevates the risk of many obesity-related health issues, known as co-morbidities. These might become very serious, leading to permanent disability or even death.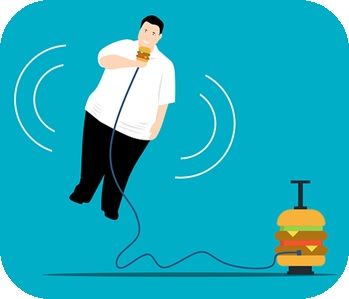 Determination of Morbid Obesity
There are different definitions that will help you find out whether you are morbidly obese or not. It can be like having 100 pounds more than the ideal average weight or can be any elevated number based on BMI.
What is morbid obesity BMI?
When the Body mass index is 40 or above 40, then a person is said to be suffering from morbid obesity.
Symptoms and Complications of Morbid Obesity
People suffering from morbid obesity will have almost the same symptoms as obese person, but here they are just in extreme conditions. You can guess any of the organ systems, and it will amaze you to find out the adverse effect of this much weight.
Obese people can show the basic day-to-day movements, but as they reach the morbid level, these elementary physical movements become impossible for them.
Also, the weight severely hampers the joints and bones. They become weak due to excessive weight above their tolerance capacity. Some of the worst situations require the replacement of knees, spine and ankle bones to avoid permanent damage.
Sleep apnoea becomes more critical. There are high chances of cessation of breath while sleeping, causing the silent death.
Diagnosis of Morbid Obesity
The diagnostic procedures are the same as obesity involving BMI, lipid profile, blood sugar level, skinfold thickness test etc.
What social challenges do morbidly obese persons face?
People with significantly extra weight face constant discrimination and humiliation from society. They feel isolated when all the basic life accessories from car seats, theatre seats, doors etc., are not designed for them.
Airlines and other transporting facilities force them to take two tickets as they consume more space. For these reasons, they are unable to become part of any social group or activity. Thereby lowering their self-esteem.
Treatment for Morbid Obesity
The ultimate solution for getting rid of morbid obesity is bariatric surgery. This surgery reduces the stomach size or bypasses the digestive tract.
There is a need for constant monitoring of weight and diet. And as per the situation, the patient gets medications from doctors.
Also, some amount of physical workouts can help. Psychological therapy sessions also help them to regain their lost confidence.

Key Differences Between Obesity and Morbid Obesity
Obesity is a state of acute fat deposition in some specific regions of the body. In comparison, morbid obesity is the advanced level of obesity. It is the condition of extreme fat deposition in almost every body part.
The BMI of an obese person ranges from 30 to 39. Whereas the same lies above 40 in the case of morbid obesity.
Obesity has a lower risk of death, reducing the mortality rate. In contrast, the death risk is very high in patients suffering from morbid obesity. This elevates the mortality rate up to 6 to 8 times.
A person suffering from the problem of obesity is mobile enough to perform their daily routine task. He is not reliable on others for his basic movements.
Contrarily, a morbidly obese person cannot move very easily for their daily activities without any external aid.
Obesity is treatable by proper diet, exercise and a positive approach. While for the ultimate treatment of morbid obesity, bariatric surgery is must.
Is obesity a lifestyle choice or illness?
We generally have a notion that obesity is a lifestyle choice and not an illness that needs treatment.
Let's understand this concept with the example of a boy named Edward. Even after meeting Edward for the first time, people start assuming about his unhealthy diet, inadequate physical activity and much more. This is because he is obese.
We assume to calculate the body fitness by a simple formula of energy balance equation.
And whosoever will balance this equation will remain lean and fit. Whereas those like Edward eat more and exercise less, thereby becoming obese. It's simple just eating less and working more will make him lean. It may sound logical, but it is not true
But in such cases, there is much more than meets your eye.

Understanding the theory behind Obesity with an Example!
Our brain has its own parameters to monitor how much fat content our body should have on board.
This theory relies on one important factor, i.e., set point. You can assume a set point as the range or the maximum fat limit that our brain decides. The brain regulates the consumption and expenditure of the energy to sustain within a set point range.
A group of hormones signal the brain about how much energy is on board and how much more the body needs. One such enzyme is leptin.
Suppose Edward tried to lose some weight, so he ate less and exercised more. Even after doing so, he is unable to lose weight. This confused him and forced him to think about what wrong is he doing?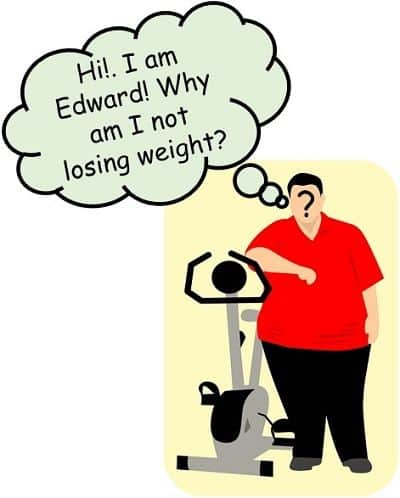 What do you think is happening?
Let's see.
When he tries to lose weight, his hormonal level changes and his brain gets these signals and starts restoring whatsoever body fat he has lost to sustain the set point.
As a result, he feels hungrier and although he might not be aware, but he is burning fewer calories than before.
This implies that our brain has ordered the body to work under fuel-efficient mode in order to defend the current set point.
This explains why Edward failed to produce desired results by eating less and exercising more.
We should stop blaming the ones like Edward for being irresponsible drivers. Instead, we should help them know and understand that they require a mechanic to fix their situation.

Conclusion
The following content provides the major differences between obesity and morbid obesity. Along with that, you will get all the necessary information about them.