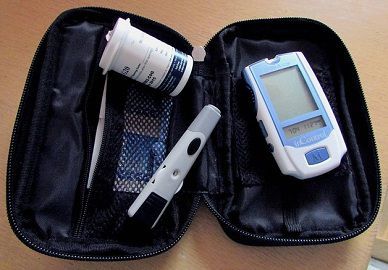 In reference with diabetes – Hypoglycemia refers to the low blood sugar, while Hyperglycemia is high blood sugar. 'Glycemia' is the word which indicates the presence of glucose in the blood. Both the medical condition can occur in the person having diabetes, which develops due to improper functioning of the insulin.
Normal blood glucose level in fasting condition is up to 126 mg per deciliter if the level of glucose in the blood decreases or found to be less than 70 mg per deciliter than condition is said to Hypoglycemia. On the other hand, if the level of glucose level rises above 126 mg per deciliter, the condition is termed as Hyperglycemia. Both of these conditions are fatal and can be life threatening too, if not taken seriously.
Hyperglycemia is serious chronic medical condition than Hypoglycemia, as in this sugar level increases and if not treated may give rise to another disease like coma, urinary excretion, nerve damage, unconsciousness, infertility, blurred vision. Hypoglycemia arises suddenly in a patient, the main cause of Hypoglycemia can be more amount of intake of insulin, while Hyperglycemia arises slowly with days and time.
There are two stages to check blood glucose level, one is at 'fasting blood glucose level, ' and other is 'random glucose level.' In the case of fasting glucose level, blood is checked without having a meal while in another it is checked after having a meal. Below we will discuss the differences in both kind of diseases along with sign, symptoms, treatment, etc.
Content: Hypoglycemia Vs Hyperglycemia
Comparison Chart
Basis for Comparision
Hypoglycemia
Hyperglycemia
Meaning
When a blood-sugar (glucose) level get low in the blood.
When a blood-sugar (glucose) level rises in blood.

Symptoms and Signs
1.High pulse.
2.Pale skin.
3.Confused state of mind.
4.Anxiety.
5.Tantrums.
6.Fast heartbeat.
7.Headache.
1.Increased thirst (Polydipsia).
2.More urination than usual (Polyuria).
3.High-volume rapid pulse rate.
4.Hot and dry skin.
5.Abdomen pain.
6.Vomiting.
7.Drowsiness, fatigue or no energy.
8.Weight loss.

Cause
1.Excess of insulin (the drug used to treat hyperglycemia).
2.Low or no intake of food.
3.Excessive exercise.
4.Or GIT (Gastrointestinal Tract disturbances).
1.Too much intake of food.
2.The absence of insulin.
3.Stress.
4.Side effects of drugs.
Post effects
It damages eyes, kidneys, fits, confusion.
It may lead to coma, urinary excretion, nerve damage, unconsciousness, infertility, blurred vision.
Outset
Hypoglycemia is a sudden outcome.
Hyperglycemia develops slowly over a long period.
Diagnosis
Checking glucose level in blood through the blood test.
Checking glucose level in blood through the blood test.
When it is said to be a Hypoglycemia or Hyperglycemia
When blood glucose level of less than 70-100 mg per decilitre.
When blood glucose level rises above 126 mg per decilitre.
Complications
Hypoglycemia may rise to Diabetic Ketoacidosis.
Hyperglycemia may give rise to Hyperosmolar Hyperglycemic Nonketonic Syndrome.
Definition of Hypoglycemia
As discussed above when the blood glucose level gets a decline from the standard characterized level that is 126 mg per deciliter, especially when it gets below 70 mg per decilitre, this conditions is said to be Hypoglycemia. There are different reasons for this disease mainly like prolonged fasting, taking the high level of insulin, less intake of food due to gastrointestinal tract disease. That's why this disease is called 'insulin reaction.' A reaction of Hypoglycemia comes very sudden.
Symptoms include sweating, nervousness, confusion. Though this disease is a sudden outcome in the body and many people are not aware of Hypoglycemia, hence once should visit a doctor regularly if the person feels above-given symptoms in his body.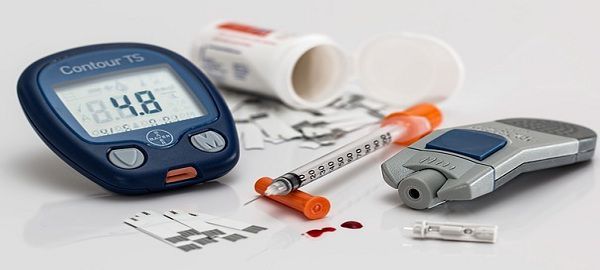 As said above Hypoglycemia, occurs suddenly and so the action for treating it should also be quick, as if left untreated it can be life threatening or can lead to coma, mental disturbance, confusion. So, a person should be given such things which can provide instant glucose to the body like sugar cubes, glucose in the form of liquid or tablets or other fast-acting sugar items.
Once the person started with insulin reaction, he should follow proper routines and check why this happened and consult the doctor as soon as possible. Complication like diabetic ketoacidosis (DKA) may occur.
Definition of Hyperglycemia
Hyperglycemia is the indication of diabetes (both type1 diabetes and type2 diabetes) and prediabetes. Diabetes is the most common cause of hyperglycemia. Sometimes other conditions may also result in Hyperglycemia like Cushing's syndrome, pancreatitis, hormone-secreting tumors.
Usually occurs slowly, over hours or days, the main causes of this disease are stress, illness, not taking the required amount of insulin, overeating, infections and sometimes due to certain kind of side effects of medicines. Hyperglycemia is the conditions seen in diabetic person, which can be either insulin dependent (type 1 diabetes) or non-insulin dependent (type 2 diabetes).
Type1 diabetes occurs only in 5% patients while type 2 diabetes is most common in adulthood and occur to 95%  of total patients. In type 2 diabetes there is a condition known as 'insulin resistance', where the body is unable to use insulin properly, and the condition gets worse when pancreas makes less insulin, this is called 'insulin deficiency'.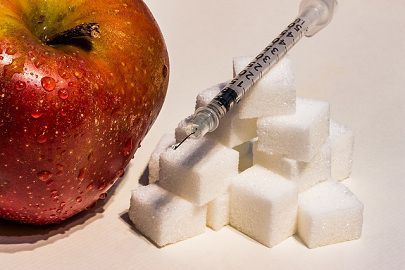 Type 1 diabetes can not be prevented and episodes of low blood sugars are very common, type 2 diabetes can be prevented by following regular exercise, sensible eating. There are no episodes of low blood sugars unless the person is taking insulin and diabetics medicines. Hyperglycemia symptoms include increased thirst, anxiety, trembling, weakness, sweating, urination more than usual, irritability, headache, loss of appetite, fatigue.
Hyperglycemia is more severe condition than Hypoglycemia, and if care not taken of the patient Hyperglycemia may lead to kidney infections, hyperglycemic hyperosmolar nonketonic syndrome (HHNS, also known as the hyperglycemic hyperosmolar state) or ketoacidosis.
By levels of blood glucose in the body Hyperglycemia is categorized into two groups:
Fasting hyperglycemia – When the amount of glucose level in the blood rises 130 mg per deciliter for more than at least 8 hours.
Postprandial or after meal Hyperglycemia – When the amount of glucose level rises higher than 180 mg per deciliter when checked after two hours of meals.
Key Differences Between Hypoglycemia and Hyperglycemia
Above we discuss the difference between Hypoglycemia and Hyperglycemia in the comparison chart, given below are the substantial points which differentiate them.
Hypoglycemia and Hyperglycemia are the two medical condition related to the presence of glucose level in blood, the earlier one is the condition when the level of glucose in blood decrease below 70 mg per deciliter while the latter (Hyperglycemia) is the result of higher level of glucose in the blood which can be more than 130 mg per deciliter.
Hypoglycemia arises suddenly while Hyperglycemia arises slowly within days and time. Diagnosis of them is done through the blood test and also by observing signs and symptoms which include high pulse, pale skin, anxiety, confused the state of mind, headache, tantrums in a case of Hypoglycemia. In Hyperglycemia, increased thirst (Polydipsia), more urination than usual (Polyuria), rapid pulse rate, abdomen pain, weight loss is commonly noticed.
Hypoglycemia occurs due to an intake of more amount insulin (drugs used in treating Hyperglycemia), fasting, heavy and continues exercising while Hyperglycemia happens due to stress, overeating, an absence of insulin.
Diabetic Ketoacidosis is complications may arise due to Hypoglycemia; Hyperosmolar Hyperglycemic Nonketonic Syndrome is the complication due to Hyperglycemia.
In Hypoglycemia patient is treated through an infusion of dextrose water or immediate intake of some form carbohydrate is given which will provide instant energy; In Hyperglycemia, treatment is through insulin administration in both type 1 diabetes as well in type2 diabetes.

Conclusion
Controlling blood glucose level in the body is most important and should be regulated properly. Considering the two conditions found in a body due to the presence of glucose in the blood which can be either of higher level (Hyperglycemia) or lower level (Hypoglycemia). Proper care, diet, and medications can treat them well and can be maintained at the control level.
Though it is also noticed the person who is not having diabetes may get their blood sugar level up to 140 mg per deciliter after taking the meal, is not the thing to worry.