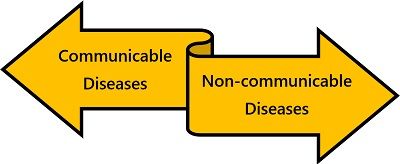 Communicable diseases get transmitted from one person to another. In contrast, non-communicable diseases are non-transmissible. Thus doesn't get spread to others.
The communicable ones are acute and might last for a shorter period of time. Whereas non-communicable diseases are chronic and endure for a longer period of time
Pathogenic microbes like bacteria, viruses, etc., are the prominent reasons behind communicable diseases. Whereas non-communicable ones occur due to metabolic dysfunction or inheritance.
The communicable diseases get conveyed from the carrier to a new host either directly or indirectly. On the other hand, there is no means of conveyance for non-communicable diseases.
In this context, we shall discuss the differences between communicable and non-communicable diseases. And the global issues that they cause, as well as how to control and avoid them.
Content: Communicable Vs Non-Communicable Diseases
Comparison Chart
Basis for Comparison
Communicable disease
Non-communicable disease
Meaning
The disease spread from person to another, they are 'catching' disease and can be spread through the air, water, etc.
The disease which does not spread from one person to another through any mode.
Cause
Caused by pathogens and considered as highly infectious and vectors play the major role in spreading disease from one person to another.
Caused due to allergy, illness, malnutrition or abnormalities in cell proliferation, changes in lifestyle, environment play a significant role.
Infecting agent
Bacteria and virus.
No infectious agent.

Example
Tuberculosis, AIDS, Typhoid, Cholera, Malaria.
Cancer, Rickets, Allergies, Kwashiorkor, Diabetes, Heart disease, etc.
Inheritance
This disease cannot be inherited from one generation to another.
This disease can be inherited.
Treatment
Treated by conventional methods.
Treated conservatively or surgically.
Type
Acute (develops quickly).
Chronic (develops slowly and last for long-period).
Precautions
1.Wear mask wherever needed.
2.Wash your hands every time.
3.Avoid sharing one's belongings.
4.Stay away from the person who is infected with any disease.
1.Should go for regular body checkup.
2.Maintain proper diet.
3.By doing exercise daily.
4.Take proper sleep and rest.

What are Communicable diseases?
"Diseases that can easily be communicated from one organism to another, either directly or indirectly, are known as communicable diseases".
Communicable diseases are also known as contagious or transmissible diseases. They get transmitted from one host to another either by direct or indirect means.
These diseases readily spread among a large group of individuals in a very short span of time. For which they are referred to as mass killers.
Communicable diseases are not completely seasonal. But still, environmental variations affect most of them.
For example, malaria spreads rapidly due to the humid rainy climate. This is due to the fact that a humid climate is ideal for mosquito reproduction.
Global burden of communicable diseases
Communicable diseases impact a large proportion of the population overall the globe. Several factors contribute to this widespread proliferation such as:
Continuous migration
National and international travels
Environmental changes
Thus, such transmissible ailments become a threat to the health of the entire human race.
Millions of people get infected, and thousand die due to these contagious diseases. South Asia, Central Africa, North America and Europe are highly prone to such diseases. These diseases impose a burden on the health of individuals. Also, they hamper the economy and social well-being of any country.
Transmission of communicable diseases
The transmission of these diseases can take place in two ways:
Direct transmission
Indirect transmission
1. Direct Transmission
Direct transmission spreads from one organism to another through direct close contact.
For example:
Transfer of body fluids like a blood transfusion.
Sexual transmission.
Droplet inhalation.
Oral/faecal transmission.
Using the same syringe for drug consumption.
Sometimes even through touch.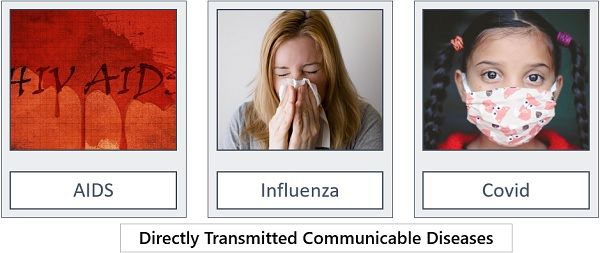 Note: Touching common surfaces like elevators, doorknobs, switchboards, etc. spread these contagious diseases. For instance, the infection bearer sneezed on a surface. This will leave the pathogen containing droplets there.
If a healthy man touches that surface, he might intake those pathogens by touching his mouth or nose.
2. Indirect Transmission
Indirect transmission requires the passage of pathogen through the biotic or abiotic components.
Air, water, food are the prime abiotic factors. While vectors like flea, mosquito, fruit fly etc. are potent biotic components.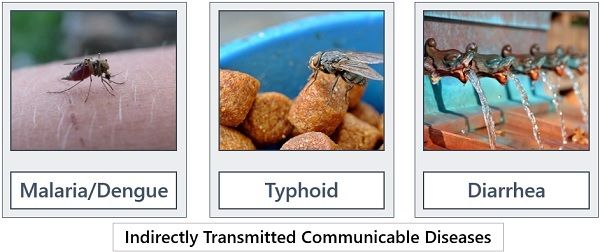 Some pathogenic Communicable Diseases
Bacteria: Whooping cough, gonorrhoea, tuberculosis.
Viruses: Measles, hepatitis, AIDS.
Protozoa: Malaria, dysentery.
Fungi: Ringworm, candidiasis, athlete's foot.
Incubation Period
When a pathogen enters a healthy individual, it takes time to multiply and adapt to the internal environment. This period of time is called as the Incubation period.
There are no specific signs or symptoms of the disease during this time. As soon as this time period expires, the diseases' symptoms begin to manifest.
General stages of Communicable Diseases
There are four primary stages of any communicable disease:
Exposure: In this duration, a person gets exposed directly or indirectly to the infected person. Thus, it is an intake of the infection causing agent inside the healthy body.
Incubation: At this stage, the virus adapts to its environment. Thereby it increases its population in order to battle the host's immune system.
Infection: Here, the pathogen fights against your immune system. Thus, poses the symptoms of the disease.
Disease: When the immune system fails to combat the pathogen, the infection grows to its full capacity. This produces bodily suffering and damages the relevant body part.
Control and Prevention
These infectious diseases pose a significant hazard to public health worldwide. The poor countries or even the developing ones suffer a lot due to:
Inadequate healthcare facilities
Lack of awareness
Lack of hygiene
These issues make it mandatory to prevent these transmissible health hazards from happening.
Certain preventive measures to control these diseases are:
Maintain hygiene (especially where there is food and water)
Clean and efficient healthcare facility to ensure the detection and control of the disease at the early stage.
Awareness among the common civilians about these diseases.
Adequate drainage and sanitization
What are Non-Communicable Diseases (NCDs)?
Non-communicable diseases or NCDs are also referred to as chronic diseases. They are non-transmissible, i.e. they are not conveyed from the carrier to the others by any means of exposure.
These diseases might not travel from one to another, but that doesn't mean they are not hazardous. Contrary to communicable diseases, they last for a longer period of time.
Global Burden of Non-communicable Diseases
According to the WHO, NCDs are responsible for almost 70% of all deaths worldwide. This means that non-transmission diseases claim the lives of approximately 40-41 million individuals.
The majority of this number comes from low and moderately developed countries. According to recent studies, people between the ages of 30 to 70 are most vulnerable to such diseases.
This overgrowth is due to issues such as:

Bad diets
Excessive cigarette use
Excessive alcohol consumption
Physical inactivity

Around 17-18 million individuals die only with the cardiac disorder which is a common NCD.
Cancer mortalities account for 9.5 million. Whereas respiratory deaths for 4.1 million, and diabetes deaths for 1.5 million.
Risk factors of Non-communicable Diseases
a.    Behavioural Risk factors
         Use of tobacco, active or passive smoking.
         Excessive use of salt or sodium in daily diet.
         Continuous exposure to harmful radiation like U.V. radiation.
         Coming in contact with chemicals for an extended period of time.
b. Inheritance
       The lineage of a genetic disorder in family background
       By congenital disability (birth defects) in the genetic make-up
c. Metabolic risk factors
Physical inactivity
Excessive cholesterol level or obesity
Increased glucose content in the blood
Hypertension
Examples of Non-communicable diseases
Major examples of Inherited diseases
Down syndrome – Due to change in chromosomal number.
Cystic fibrosis- Due to mutation.
Chimerism or Heterochromia- Increased amount of genetic information.
Examples of Metabolic diseases
Cancer
Diabetes
Cardiovascular disorders like a heart attack or stroke
Liver diseases
Kidney malfunctioning
Chronic obstructive pulmonary diseases (COPD)
Malnutrition
Control and prevention of Non-communicable diseases
To reduce the influence of NCDs on the global society, there is a need for a comprehensive approach. This approach should be applicable to a broad range of populations. One of the effective ways to control NCDs is to lessen the risk factors related to them.
Cheaper and efficient management of these diseases is a must for their eradication. Early detection, screening and treatment of NCDs can prevent their explosion up to a great extent.
Countries with less-developed healthcare facilities are at perpetual risk of NCDs. Thus, the need to achieve adequate health facilities becomes essential.
Depending on the disease, we can treat NCDs by conservative method or with surgery.
Key Differences Between Communicable and Non-Communicable Disease
Communicable diseases are acute diseases that progress quickly. They are contagious as they can be transmitted can be directly or indirectly. They last for a shorter period of time.
While Noncommunicable diseases are chronic diseases that progress slowly. They are non-contagious. And occur due to changed lifestyle, environmental factors, or can be hereditary.
They remain for a long duration in the body.
Examples of Communicable diseases are Diarrhea, flu, rabies, malaria, TB, cold, fever, vomiting. Hypertension, cancer, diabetes, cardiovascular disease, stroke, muscles pain are examples of Non-communicable diseases.
Causative agents are bacteria, viruses and parasites in Communicable diseases. On the other side, there are no such causative agents for NCDs.
Maintaining hygiene, avoiding contact with infected persons are some preventive measures for communicable diseases. Whereas taking proper diet, doing physical workout etc. can prevent NCDs.
Conclusion
We can classify the diseases as communicable and non-communicable diseases based on their contagiousness. Communicable ones get transmitted in a direct or indirect manner. While NCDs are the ones that are not transmitted from one person to another.
Both of them impose an equal burden on the health of individuals worldwide. Also, these diseases can impact the social well being and the economic state of the country. Thus, it becomes important to prevent them irrespective of their nature.