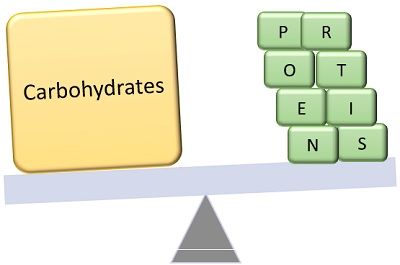 The carbohydrates act as fuel or a source of energy for the cells. The subsequent phases of carbohydrate metabolism generate energy molecules. Our bodies use this energy to conduct all mechanical, physical, and metabolic tasks.
Whereas proteins facilitate a range of metabolic functions. For example:
Constructing and maintaining a healthy body
Catalyzing a variety of chemical
Biological reactions
Transporting materials
Participating in defensive machinery of the living system.
Carbohydrates are sugars (Saccharides) by nature. Their monomeric unit is a monosaccharide connected by a glycosidic bond. In contrast, proteins constitute amino acid residues linked together by peptide bonds.
The primary elements found in carbohydrates are hydrogen, oxygen, and carbon. However, proteins also contain sulphur, nitrogen, and phosphorus in addition to these three.
In the following context, we will discuss the differences between carbohydrates and protein. Along with a comparison chart, types, daily requirements and roles in our bodies.
Content: Carbohydrates Vs Proteins
Comparison Chart
| Basis of Comparison | Carbohydrates | Proteins |
| --- | --- | --- |
| Meaning | Carbohydrates are sugars composed of carbon, hydrogen and oxygen and act as fuel or energy suppliers for the cells in our body. | Proteins are complex, nitrogenous compounds that help in building the structural composition of any living body. |
| Function | To fulfil the energy requirements of the body. | To construct the structural organization like new cells, muscles, repairing the damaged organ etc. |
| Monomeric Unit | Monosaccharides | Amino acids |
| Regular Intake | 225-325 grams per day for a healthy adult. | 60-80 grams per day for a healthy adult. |
| Bond | Monomers of carbohydrates are linked with glycosidic bond. | Peptide bond is present between the subsequent amino acid residues in a polypeptide chain. |
| Sources | Wheat, rice, bread, oatmeal, pasta, potato, sweet potato, corn, melon, nuts, legumes, sauces and condiments, starchy fruits like apple, etc | Poultry products like chicken, eggs; nuts like almonds, cashew; dairy products like milk, yogurt, cottage cheese; sea food like crabs, fishes; legumes like lentils, black grams etc. |
| Digestive enzymes | The enzymes which have the ability to break down the carbohydrates are – amylase, maltase, lactase, sucrase, galactase etc. | The protein digesting enzymes are- proteases and pepsin. |
| Elemental Composition | Carbohydrates constitute carbon, hydrogen and oxygen. | Proteins are made up of carbon, hydrogen, oxygen along with phosphorous, sulphur and nitrogen. |
| Solubility | Mostly soluble in water. | Some of the proteins that are hydrophilic in nature solubilize in water, whereas hydrophobic proteins are insoluble in water. |
| Types | Carbohydrates are monosaccharides, oligosaccharides or polysaccharides based on the number of monomeric unit present in them. | The proteins are - structural proteins, storage proteins, globular proteins, hormonal proteins, defensive proteins, enzymatic proteins, receptor proteins, transport proteins, contractile proteins. |
What are Carbohydrates?
All our body parts, even each cell has to perform several tasks for the optimal functioning of our body. For this, energy is the most important thing provided by the food we intake. The significant component in our food that supplies energy are carbohydrates. Therefore, their requirement is in a larger proportion.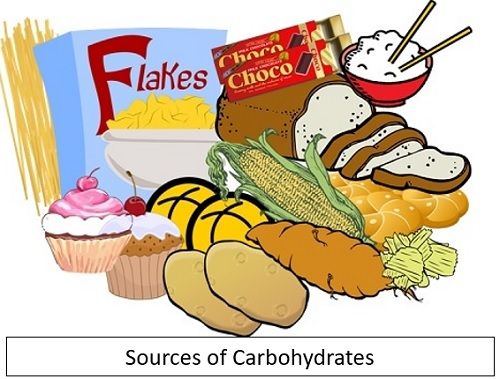 Definition of carbohydrates
"Carbohydrates are carbon, hydrogen, and oxygen-based molecules. They help our body to meet its energy needs".
Characteristics of Carbohydrates
The carbohydrates are often termed as Saccharides (sugar) or carbs.
They are present in various forms. For example glucose, fructose, lactose, galactose, ribose, starch, cellulose etc.
The Monomeric unit of the carbohydrates is a monosaccharide. Monosaccharides are the smallest and most basic carbohydrates. We can't break down these monosaccharides into smaller units any further.
A glycosidic bond binds the succeeding monosaccharide molecules together.
Carbohydrates have the same hydrogen: oxygen ratio (2:1) as water molecules. As a result, we refer to it as carbohydrates.
Based on their physical qualities, carbs are classified as sugars or non-sugars.
Plants are the ultimate source of healthy carbohydrates.
How many carbohydrates must you eat every day?
Carbohydrate consumption has no set limit that applies to everyone. Their intake value varies depending on the individual's age, sex, health, and purpose.
On average, each one of us should consume 225-325 grams of carbs on a daily basis. This accounts for roughly 45-65 % of our daily calorie intake. This value may be higher or lower depending on one's health and calorie requirements.
How does your body process carbohydrates?
The digestive system breaks down the complex carbs into simpler sugars i.e., glucose. Later, these glucose molecules enter the bloodstream.
Further, processes like Glycolysis and Krebs cycle catabolize these molecules to produce energy. This energy produced serves as fuel for our bodies.
What will happen due to excess carbs?
The amount of carbohydrates you consume determines the level of sugar in your blood. As a result, eating too many carbohydrates might raise blood sugar levels. This situation leads to hyperglycemia, i.e. diabetes.
Note: Hypoglycemia is a low blood sugar level caused by insufficient carbohydrate ingestion.
Classification of Carbohydrates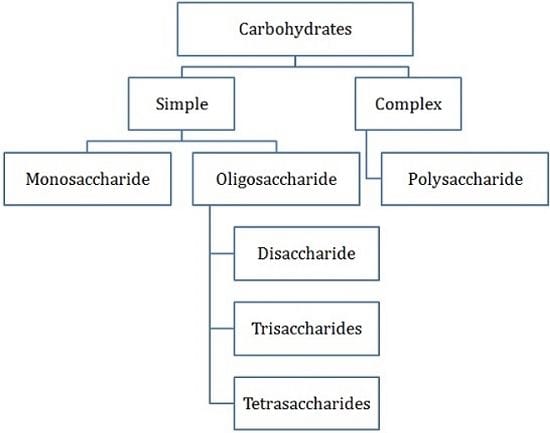 Carbohydrates are scientifically classified on their products of hydrolysis as:
1.   Monosaccharides: These are polyhydroxy aldehydes or polyhydroxy ketones. They are basic and simplest carbs. They cannot be further hydrolyzed into form simpler forms.
2.  Oligosaccharides: Their formation occurs by linking a definite number of monosaccharide units. During this process, the water molecules get eliminated.
Based on the number of monomeric units connected together, they can be subdivided into:
a.    Disaccharides: The combination of two monosaccharides results in the formation of a disaccharide. On hydrolysis, they generate two monosaccharide molecules.
Example: cane sugar, maltose, lactose etc.
b.   Trisaccharides: On hydrolysis, the trisaccharide produces three units of monosaccharides.
Example: raffinose (C18H32O16).
c.    Tetrasaccharides: Linking four monosaccharide molecules together forms a tetrasaccharide. They generate two monosaccharide molecules on hydrolysis.
Example: stachyose (C24H42O21).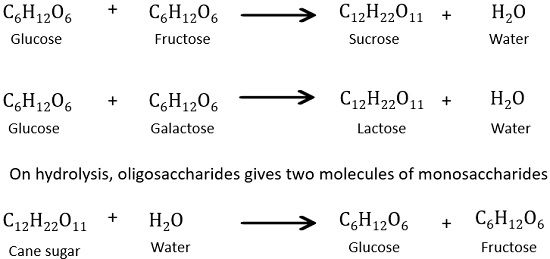 3.   Polysaccharides: In comparison polysaccharides are complex carbohydrates. They are formed after the combination of an indefinite number of monosaccharide units.
Polysaccharides are developed from n number of monomers. This leads to the elimination of n number of water molecules.
Note: Due to the indefinite number of monomers, we can assume their number as 'n'.
Example: Starch, cellulose, glycogen etc.

Type of carbohydrates
Carbohydrates are found in three general forms:
Sugars: Glucose, fructose, sucrose and lactose are sugars. They are the simple and most basic forms of carbohydrates. They are sweet in taste. Crystalline in nature and are readily soluble in water. Found naturally in fruits, some veggies and milk.
Starches: They are non-sugars and are not sweet in taste. They are complex carbs that are generated by linking several simple sugar molecules. These starches have to be broken down into sugars for obtaining energy from them. Food items like peas, bread, cereals, corn, potatoes, pasta etc., are loaded with starches.
Fibres: They are also complex carbs. Your body is unable to break down or digest most of the fibres. As a result, consuming fibre-rich foods will keep you full and prevent you from overeating. They control digestion by facilitating food passage through the intestine. They also help to avoid constipation, lower cholesterol, and keep you healthy.
Note: The experts advise 25-30 grams of fibre consumption on daily basis.
Deficiency of carbohydrates
People often develop a myth that carbohydrate intake is responsible for their fattening. As a result, they avoid carbs at all costs. However, this misconception is not entirely correct. Anything consumed in excess has negative consequences.
Suppose your diet deprives carbs, then your body will take extreme efforts to meet its energy need. For this, the body will feed on stored carbohydrates in muscles. It will chemically break down the proteins till they resemble and behave like carbs.
In such a case, the body struggles to remove the unneeded proteins as a by-product. For this reason, the body suffers acute weakness, muscle loss, and strain on the kidneys.
What are Proteins?
Proteins form a significant part of our diet as well as of protoplasm. As a result, their name is derived from the Greek word protos, which signifies primary. The living body can survive in the absence of carbs and fats but won't be alive with a protein-deficient diet.
The proteins are intricate, nitrogenous organic compounds. They are present in all plants and animals as they create their body's framework. Animals have a higher amount of proteins (about 19%) as they are the structural unit of animal tissues.
The living body comprises a variety of proteins. Each looks different and plays a unique role.
For example, skin, muscles, horns, hair, feathers, nails, hoofs and much more. These proteins are constantly repaired and renewed throughout your life.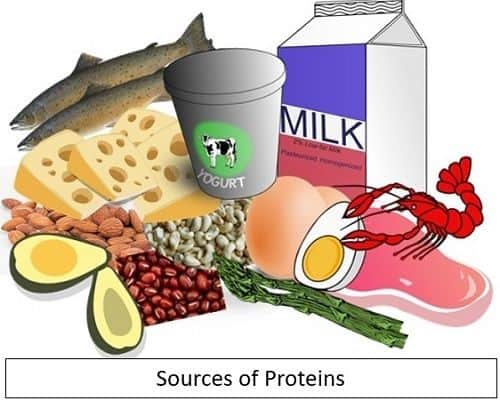 Definition of Proteins
"Polyamides of α-amino acids are known as Proteins."
Composition of Proteins
The composition of proteins is not definite and varies with its respective source. But the average composition is:
C = 50-55%
H = 6-7%
O = 20-24%
S = 2.2-3.0%
N = 14-18%
Characteristics of Proteins
The monomeric units of proteins are amino acids.
Amino acids are linked with the peptide linkage to generate long polypeptide chains.
They are colourless, tasteless, odourless, amorphous compounds with no definite melting point.
They form salts on reacting with both acids and bases.
The proteins coagulate and lose their original structure on heating above the limits. We refer to this process as Denaturation.
Enzymes, alkalis, and acids readily hydrolyse them to produce the amino acids
The process of hydrolysis involves the following steps: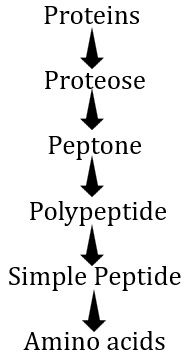 How much protein should you eat daily?
On average, a normal adult needs 60-80 grams of protein daily. This seems very much but the truth is consuming only three ounces of meat will provide 21 grams of proteins. We can find proteins in large proportion in eggs, milk, seafood, curd, and other foods. As a result, meeting the daily protein requirement is not difficult.
Classification of Proteins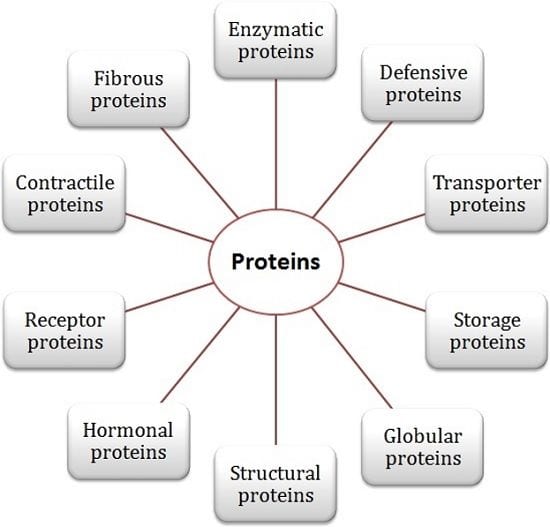 Based on solubility, proteins are of three types:
a. Simple proteins: They give only α-amino acids on hydrolysis; thus, they are known as simple proteins.
Example: Albumins, Globulin, Prolamines, Protamines, Histones etc.
b. Conjugated Proteins: On hydrolysis, they derive α-amino acids along with compounds. These compounds are either carbohydrates, phosphoric acids, or nucleic acids. The above non-protein groups are referred to as prosthetic groups.
Example: Glycoproteins, Chromoproteins, Phosoproteins, Nucleoproteins etc.
c. Derived Proteins: They are the degraded products generated during the hydrolysis of proteins.
On the basis of composition, they are of two types:
a. Globular Proteins: They are compact, folded, almost spheroidal proteins. They have weak internal hydrogen bonding, due to which they make a compact structure.
For example:
Albumin in egg
Haemoglobin and fibrinogen in the blood
Hormones
Enzymes
b. Fibrous Proteins: These are long thread-like molecules that lie side by side, making fibres. These are also held together by hydrogen bonding and have strong intermolecular forces.
For example:
Collagen in tendons
Keratin in hair, horns, feathers
Myosin in muscles
On the basis of function, they are of the following types:
a. Antibodies
Example: Gama-globulin.
b. Hormones
Example: Insulin.
c. Structural proteins
Example: Collagen in bones, skin and cartilage
d. Blood proteins
Example: Fibrinogen, albumin, globulin.
e. Enzymes
f. Contractile proteins
Example: Actin and myosin.
Deficiency of Proteins
Deficiency of protein may lead to severe health issues such as:
Muscle loss
Weak immune level
Hampered ability to fight against diseases
Skin lesions
Retarded growth of children
Hormonal imbalance
Hair fall
Key Differences between Carbohydrates and Proteins
Carbohydrates act as the energy source for the human body. While proteins contribute in making and maintaining the structural organization of the body.
Monosaccharides are the monomeric unit of carbohydrates. Whereas proteins constitute of amino acid residues.
Both carbohydrates and proteins are macromolecules. But the carbs are required in a larger quantity than that of proteins.
Monosaccharides in carbohydrates are linked together by a glycosidic bond. Peptide bond joins amino acid residues in proteins.
Carbon, hydrogen, and oxygen are the three primary components of carbohydrates. Proteins also contain sulphur, nitrogen, and phosphorus besides to these three elements.
The enzymes like amylase, lactase, maltase, sucrose, galactase etc., digest the carbohydrates. On the other side, proteases and pepsin enzymes are responsible for protein breakdown.
Summary
It is necessary to consume the right proportion of nutrients to live a healthy life. The only way for these nutrients to enter your body is through your food. Thus, it becomes more than essential to understand what we eat?
To work and function normally, the body generally requires two varieties of nutrients. They involve macronutrients (needed in a larger amount) and micronutrients (needed in a smaller amount). The carbohydrates and proteins fall under the macronutrient category. This is because they conduct critical life processes needed for an organism's survival.
Proteins and carbohydrates are both essential for optimal health. Each of these nutrients has a distinct role in the optimal growth of a healthy body. Any diet that deprives you of one or the other for a lengthy period can lead to severe biological malfunctions.