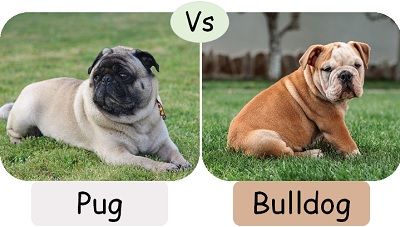 Pug and bulldog are adorable, cute, funny faces with wrinkly skin. You might have seen many trending videos featuring these two lovely dog breeds.
The pugs originated in china for the first time. Well known for their wrinkled cute smashed face with Q-tail, the pugs are irresistible and a playful dog breed.
Pugs have small sizes and large, round heads. Their eyes are large compared to their face, which gives them a comical look.
England is the place of origination for bulldogs. The bulldogs have a medium-sized muscular body. They have a broad square-shaped head, powerful shoulders with wrinkled faces and curly tails. Their eyes are deep and moderate-sized, which provides them with a serious look.
In this interesting segment, we will learn about the crucial differences between the two most popular dog breeds- Pug and Bulldog.
Content: Pug Vs Bulldog
Comparison Chart
Characteristics
Pugs
Bulldog
Size
Small
Comparatively Large
Weight
6-8 kg
male: 7.5 kg
female: 7 kg

18-22 kg
male: 24.5 kg
female: 22.5 kg

Height
25-36 cm (10-14 inches)
31-40 cm (12-16 inches)
Head
Round, large head with prominent forehead wrinkles
Broad, square head with a wrinkled forehead
Origin
They were originated in China
They were originated in British Isle, England
Eyes
Round large eyes
Moderate sized round eyes
Lower Jaw
Not prominent
Very prominent, prognathic lower jaw
Coat Colours
Fawn, white, apricot, or black
Red, white, brindle, piebald or fawn
Behavioural Character
They are considered to be very friendly and good companions of the family
They are also friendly but can be cocky and aggressive a few times
Training
Not easy to train. They are just smart enough to take advantage of poor training. After some time, they may respond positively to the training
Their training can be challenging due to their lazy and stubborn attitude
Life Expectancy
13-15 years on an average
10-12 years on an average
Popularity rank
31st
5th
Shedding level
Above average
Average
Intelligent rank
Below to average (108th /138th)
Low (109th/138th)
Drooling tendency
Low drooling tendency
Big drool
Litter size
2-4 puppies
4-5 puppies
Playfulness
They are very playful
They are lay but are playful too
Biting Potential
Have the low possibility of biting others
They can bite occasionally
Energy Level
Average energy level
Comparatively lower energy level
Gestation length
58-68 days
60-64 days
Prey Drive
Pugs have average prey drive
Have low to an average tendency to chase and catch their prey
Cost
Pug will cost around $ 250-1500
They will cost $ 1000-3500 for the bulldog
What is a Pug?
Pugs are the clowns of the canine world because of their cute, comical looks and good sense of humour. But they carry themselves with dignity as a rich dog breed. The term Pug has its origin in the Latin word "Pugnus", which means fist. They were named so due to their round and smashed face that resembles a man's fist.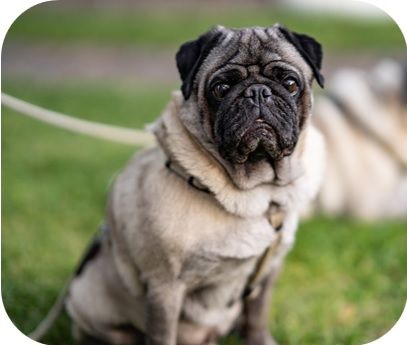 Origin of Pug: The story behind the wrinkled mark!
Pugs have their history of origination in China. People believe that the Chinese allegedly bred them and tried to create vertical wrinkles on their foreheads. This wrinkled mark symbolized the lucky Chinese character for a prince, which is why we often refer to it as the "prince mark".
The rich history of Pug
The pugs have been around the human race for centuries ago. They symbolized the art, love and affection of the Victorian era. The western world assumed pugs as the latest range in canine fashion. At that time, they featured in postcards, paintings, figurines and even sculptures.
During the 19th century, Queen Victoria had many pugs named Olga, Pedro, Venus, Minka and Fatima.
King Napoleon's wife Josephine Bonaparte also had a pug which she used to send the message to her family about her imprisonment.
The duke and duchess of Windsor considered their Pug as a royal companion.
General Characteristics of Pug
Looks and Appearance
Pugs are small weighted fluffy fat dogs.
They have small, rounded heads with wrinkles on the forehead.
They bear moles on their cheeks which are like beauty spots.
Their snouts are short, flat and black. Due to this, its face looks like it is smashed.
His ears are black with a smooth velvety touch.
The tail is curly Q shaped.
Not have a very prominent lower jaw. Their lower teeth outspread slightly above the upper teeth.
Eyes
Their eyes are huge relative to their bodies which adds to the list of their comical features.
Weight and Size
Their average weight is around 6-8 kgs (14-18 pounds). The males are about 7.5 kgs while the females are 6.5 to 7 kgs.
Their height ranges from 25-36 cm (10-14 inches).
Shedding
Pugs shed a lot despite their shot coat.
Sounds they make!
They wheeze, snort, and snore aloud, especially while sleeping.
Colours
The pugs generally have black, fawn, silver and apricot colour.
Eating Habits
They love to eat. You can say that they are greedy eaters, so they overeat at every given chance.
Because of these eating habits, they are at perpetual risk of becoming obese.
For this reason, their master needs to monitor the diet plan carefully.
Intellect
Their intelligence is below average (108th/138th). Because of this, they come in the category of the unintelligent breed.
But they are smart enough to take advantage of poor training.
Training
It might be challenging to train them as they do not respond very well to the training.
Behavioural Traits
The pugs love attention and tend to show off a bit. Their charming attitude is enough to please the people. They were originally bred as lap dogs. Thereby, they love to be in human companionship. They are famous family dogs who are very friendly to the kids.
Pugs tend to have a playful attitude. They search for opportunities to play and spend some quality time with their master. They are very adaptive by nature and because of this, they try to build their routine as per their owner's lifestyle.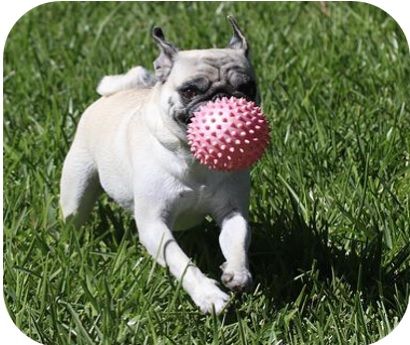 Suppose you like curling in your bed with some good books or binge-watching Netflix; then your Pug will love snuggling around you.
And if you are an athletic type of person, your Pug will prefer an active lifestyle with you.
Maintenance of Pug
Just like the other truncated muzzled breeds, pugs are also brachycephalic, i.e., they bear the elongated palates.
They prefer the cold weather and can suffer breathing issues, especially during the summers.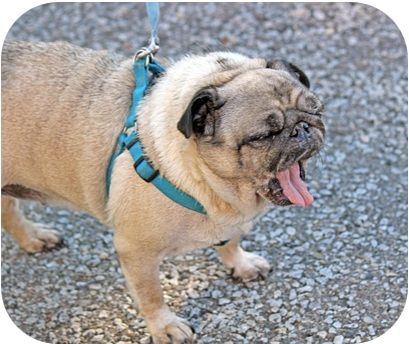 Their maintenance can be hectic sometimes due to multiple health issues. They might even need surgeries to open the blocked nasal passage in severe cases.

What is a Bulldog?
You can easily identify a bulldog by its face and structural appearance. They are cocky, determined, powerful and courageous dog breeds.
Their personality and people-pleasing attitude make them a perfect family dog. Their funny sounds and playful looks are always the centres of attraction.
It is a medium-sized, big head, short coat dog with a muscular body. Their shoulders are powerful, giving them a fighter look.
Bulldogs, nicknamed "sourmug", are enthusiastic at their young ages, but their energy level goes down as they grow older. Thus, you might not find a matured bulldog eagerly excited about going out for a walk!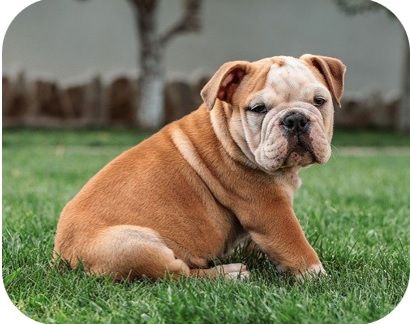 Origin and History of Bulldogs
The Bulldogs were originated in England. In around the 1500s, they first came into the description. They are the descendants of the ancient mastiff-type dogs.
Earlier, people used them for the bloody sport of bullbaiting. This game was for entertainment. This even made the bull's flesh more tender so that the butcher can cut it easily.
General characteristic
Looks and Appearance
They are medium-sized dogs with muscular appearances.
Their head is wide square-shaped, with wrinkles on either side.
The dense wrinkles are present on foreheads and cheeks.
They bear a droopy upper lip with an undershot lower lip. His lower teeth extend over his upper teeth.
Their jaws are massive and strong. Because of them, they can latch on to their opponents easily.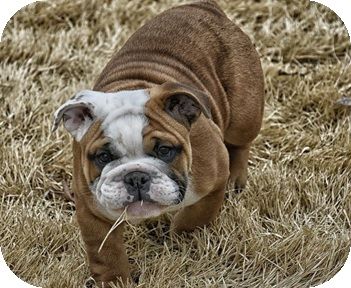 Eyes
The eyes are moderate-sized, round, and dark coloured.
Ears
The ears of a bulldog are small, delicate and thin. They remain folded just like the petals of a rose folded backwards.
Eating Habits
They are greedy eaters and are ever ready to eat. At every chance they get to eat, they quickly grab it.
Size and Weight
They are comparatively larger with 18-22 kgs average weight. The males are about 24.5 kgs while females are 22.5 kgs.
Social Behaviour
They are easy-going, and lean-to please dogs. As puppies, they are quite active and energetic. But as the age increases, they mellow down and become inactive. They prefer sleeping until there is time to eat again.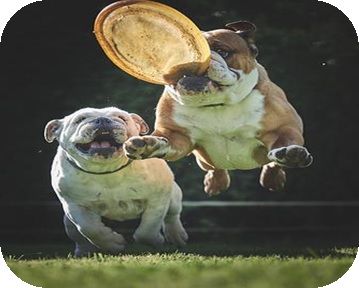 The bulldogs love to make strong bonds with their human families. They do very well with the kids and thus are good as apartment dogs.
Required Conditions
They need cold weather as they can't bear heat and humidity.
Sounds they make!
Bulldogs wheeze, snort and snore aloud while sleeping.
Maintenance of Bulldog
They don't need constant rigour exercise. In fact, the heat and warm weather can alarm several diseases. Due to their short-nosed anatomy, they suffer from various respiratory issues.
However, due to their overeating habits and lack of exercise, they easily get obese. Thus, their masters have to monitor their diet and exercise.

Key Differences Between Pug and Bulldog
The pugs are small in size, while bulldogs are relatively larger.
The head of pugs is usually small, round with wrinkles on the forehead. In contrast, bulldogs have square or round-shaped heads with wrinkles hanging around the cheek regions.
The place of origin for pugs is China, while for the bulldog is England.
Pugs have large round eyes, but bulldogs have moderate-sized eyes.
The life expectancy of the pugs is about 13-15 years, while that for bulldogs is 10-12 years.
The drooling tendencies of a pug are comparatively lower than that of a bulldog.
Pugs have a short coat, but they shed a lot. In comparison, the Bulldogs have moderate shedding.
The pugs are active and look for opportunities to play. But the bulldogs are comparatively lazy and stubborn.
The biting potential of Pug is low because of their non-prominent lower jaw. In contrast, the bulldogs have prominent lower jaws and can occasionally bite.
Conclusion
The dogs are pretty good companions that can enlighten your sour mood with their love and affection. The pugs and bulldogs are the two dog breeds perfect for families with kids as they are along very nicely.
This content will provide the key differences between Pug and bulldog along with all the necessary information you need to know.